Donald Trump's New York Campaign Co-Chair Has 'No Doubt' Barack Obama Is a Muslim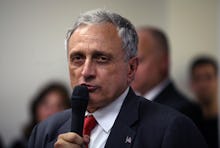 Carl Paladino, Republican presidential nominee Donald Trump's New York State campaign co-chair, has something in common with his birther boss: He thinks President Barack Obama is lying to the American public about who he is.
During an interview with the New York Observer, Paladino — who ran an unsuccessful 2010 campaign as the Republican nominee for governor of New York — said that the support Obama has demonstrated for the Muslim community indicates that he himself is a Muslim.
"In the mind of the average American, there is no doubt he is a Muslim. He is not a Christian," Paladino said.
As the Observer points out, Paladino declined to mention why a Muslim would attend Chicago's Trinity United Church of Christ for 20 years, as Obama did.
Though conspiracy theories about Obama's faith have dogged his presidency since he was elected in 2008, partially due to his middle name, Hussein, the president has explicitly stated time and again that he is in fact a practicing Christian.
Obama has also come under fire this week from former Trump cohort and current CNN contributor Corey Lewandowski, who questioned why the president had never released his transcripts from Harvard University.
During a televised sparring match over the birth movement allegations with former executive director of the Congressional Black Caucus Angela Rye, Lewandowski said that the subject of the president's transcripts was fair game. 
"And I just simply said ... have those ever been released, and the question was: Did he get in as a U.S. citizen or was he brought into Harvard University as a citizen who wasn't from this country?" Lewandowski asked.
To which Rye could only manage two words: "Boy, bye."
Read more: