This FDA-Approved Breed of Mutant Mosquitoes Are the Next Frontier in Fighting Zika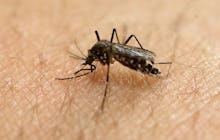 Zika-infected mosquitoes, gird your loins: Genetically edited mosquitoes are gonna try to get in your tiny mosquito pants — for the good of the planet.
The U.S. Food and Drug Administration green-lit a trial that would allow U.K.-based biotech company Oxitec to release genetically edited mosquitoes into areas where the Aedes aegypti mosquito, one of the major species that carry the Zika virus, can be found.
Oxitec's modified mosquito has what's called a "self-limiting" gene that kills a new mosquito before it matures. So when the Oxitec mosquito mates with a wild female, it only breeds mosquitoes that will die prematurely.
Sure, it's a little grim when you think about it, but it's a measure worth taking, considering the Aedes aegypti mosquitoes can also carry the yellow fever virus, the dengue virus and the chikungunya virus.
Oxitec received two reviews from the USDA, "Finding of No Significant Impact" and "Final Environmental Assessment," the final hurdle for Oxitec before it can begin the field test, which will take place in Key Haven in the Florida Keys.
But locals aren't thrilled about winged genetically modified creatures invading their community's airspace.
"Me and my wife, we worked really hard," Randy Sterling, a decade-long resident of Key Haven, told Health News Florida. "We paid a lot of money for our house, to live out there in a nice section to raise a family. And we didn't sign up to be lab rats or guinea pigs for this company."
According to Sterling, the community hasn't had a reported case of Zika, and hasn't had a case of dengue fever since 2010.
Still, if the trial is effective, Oxitec's modified mosquitoes could be the answer to a vector-borne illness that's already had around 1,825 reported cases in the U.S. alone.
Read more: