Michael Phelps' Net Worth, Wife and 3 Other Facts to Know About Olympic Gold Medal Swimmer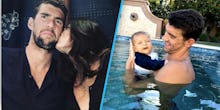 Have you heard of Michael Phelps? He's the most decorated Olympian of all time. Present-day Olympic competitors might be shaking in their pools: Phelps has come out of retirement for the Summer Olympics in Rio. 
Phelps will be making a big splash come night one: He's Team USA's flag bearer for the opening ceremony.
But the weight of the American flag won't be all he bears this month — Phelps will have to defend the gold in the 100-meter butterfly, which he last earned at the 2012 games in London.  
Before he dives in, here are five things you should know about the American medalist:
1. Phelps has a lot of money.
The 31-year-old has a net worth of $55 million, the Gazette Review reported. His skills in the pool have earned him some serious sponsorships, including one with the athletic brand Under Armour. 
2. He's off the market.
Phelps and his partner Nicole Johnson haven't officially said "I do," but the couple is intent on getting married: They've been engaged since February 2015, according to Us Magazine. Phelps and Johnson, who was Miss California USA 2010, are parents to son Boomer Robert, who was born May 5, People reported.
3. He is a true champion.
Phelps has 22 medals — including 18 gold — from three separate Olympics, making him the most decorated Olympian of all time. If he places at all of his events in Rio, Phelps will amass 28 medals. 
4. Phelps no longer eats that stunning 12,000 calories a day.
While training for the Beijing Olympics in 2008, Phelps' colossal diet made headlines (and induced nausea) worldwide. He consumed one pound of pasta, an entire pizza and a host of energy drinks, the Washington Post reported. And that was just dinner. 
With age comes wisdom — and a slower metabolism (but probably not for Phelps). He told USA Today that eating has become a job for him in his training. 
"I am eating just to maintain a weight, trying to stay between 200 and 205 pounds," he said to the Associated Press in March. I think that's kind of my ideal fighting weight. Every now and then I take what I want, but I don't go too overboard on sweets or inappropriate fuel."
5. Some say Phelps has a physiological advantage over other swimmers. 
His extra large wingspan, size 14 feet and double-jointedness are often attributed to Phelps' great swimming success. While some say his natural-born flippers make him faster in the water, former team physician H. Richard Weiner told Scientific American it's unlikely any of his special physical features have given the medalist a particular edge. 
Read more: