5 Facts About Olympic Star Larissa França You Probably Didn't Know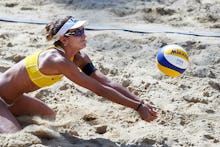 Brazilian beach volleyball star Larissa França, 34, is one to watch at the 2016 Olympics in Rio de Janeiro. 
In 2011, França and partner Juliana Felisberta won the Beach Volleyball World Championships. At the 2012 Olympics in London, França and partner Juliana Silva won bronze. França is now the top titleholder in beach volleyball — she has 57 Fédération Internationale de Volleyball gold medals. She and new partner Talita Antunes are among the favorites to win a gold medal in Rio.
Beach volleyball became an Olympic sport in 1996, but much isn't known about França outside of Brazil. This year's Olympic games could change all that. Here are five facts about Larissa França. 
França is a legend in beach volleyball. 
Her medals are the most all-time in the sport, though she's won only one Olympic medal (bronze in 2012). Even after 15 years playing competitive beach volleyball, França proved she is still at the top of her game after winning the FIVB Beach Volleyball Tour's most outstanding player in 2015.
França left the sport for two years after winning her Olympic medal. 
After the 2012 London Olympics, França retired and stayed away from beach volleyball for two years. She made her return in 2014 to attempt to qualify for the 2016 Rio Olympics with her new partner, Antunes. 
"The chance to compete in the Olympic Games at home is every athlete's dream and it's no different in my case," she said to the International Olympic Committee's Rio website. "Playing in the 2007 Pan Am Games in Rio was wonderful. The force and energy of Brazilian fans is impossible to describe. That's why I've come back — I really want to secure a berth for 2016 and represent my country at the games at home."
She wasn't always a beach volleyball player. 
França received a volleyball scholarship in high school and played indoor volleyball, even winning a title in 2000. She officially switched to the beach game in 2001.  
França is married to a fellow beach volleyball player. 
França married Liliane Maestrini in 2013, just weeks after announcing their relationship. Maestrini has five FIVB titles in her career.
She's a successful businesswoman off the sand. 
França runs Buffet La Li Boom, a company that specializes in hosting children's parties. According to França, it's the largest business in Fortaleza, the fifth largest city in Brazil. "I know one day I need to stop the beach volleyball," França said to PopTower. "I am thinking 2016, and after, I need work."
Read more: