Renee Zellweger Just Shut Down Body Shamers and Tabloids in Blistering Blog Post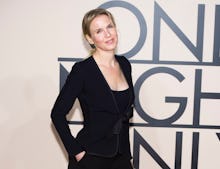 Bridget Jones made her diary public. 
In a Huffington Post blog post titled "We Can Do Better," actress Renee Zellweger clapped back at tabloid papers that speculate about her plastic surgery and also mainstream media outlets that report on tabloid as truth rather than fiction. Zellweger, who has stayed silent on issues of plastic surgery until now, wrote: 
"Not that it's anyone's business, but I did not make a decision to alter my face and have surgery on my eyes. This fact is of no true import to anyone at all, but that the possibility alone was discussed among respected journalists and became a public conversation is a disconcerting illustration of news/entertainment confusion and society's fixation on physicality."
Zellweger wrote it's no secret a "woman's worth has historically been measured by her appearance." 
Zellweger's face began to fuel tabloid speculation in October 2014. At the time, she called the criticism "silly" and said little more about it. Zellweger has once again entered the spotlight ahead of the Sept. 16 release of her film Bridget Jones's Baby. 
According to Zellweger, the emphasis on a woman's looks "is problematic for younger generations and impressionable minds, and undoubtedly triggers myriad subsequent issues regarding conformity, prejudice, equality, self acceptance, bullying and health."
Aside from distracting from "countless significant" world events, Zellweger said the tabloids that focus on women's looks have another harmful effect: It makes cruelty the norm. 
"It saturates our culture, perpetuates unkind and unwise double standards, lowers the level of social and political discourse, standardizes cruelty as a cultural norm and inundates people with information that does not matter," she wrote. 
Zellweger closes her post by posing two long questions: What if tabloid fodder remained tabloid fodder and wasn't taken too seriously by mainstream media, and what if we thought twice about fueling tabloid speculation, which can often have a significant consequence on the people it targets? 
Once we recognize the problematic nature of the tabloids, Zellweger posits, we can focus on how public humiliation and diminishing people "impacts younger generations and struggles for equality." 
"Maybe we could talk more about our many true societal challenges and how we can do better," she concluded.
Read more: