Meryl Streep Said a Trans Choir Teacher and Gay Piano Teacher Taught Her LGBT Acceptance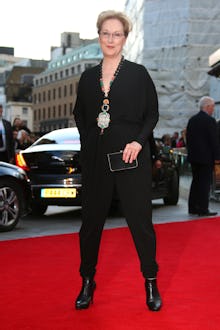 If you want to know why Meryl Streep loves the LGBT communities so much, look no further than her earliest years growing up in New Jersey. 
At a press event in Los Angeles for her upcoming film Florence Foster Jenkins, Streep let loose about the various LGBT people in her life who helped her hone her craft and opened her eyes to different life experiences than her own. 
"My music teacher in sixth grade in Basking Ridge, New Jersey, was named Paul Grossman," she said, the Advocate reported. "And... the next year he came back, and he was Paula." Born in 1949, Streep was in sixth grade in the early 1960s, well before the birth of the modern LGBT rights movement at Stonewall Inn, now a national monument. 
Streep did not specify whether her music teacher used male or female pronouns after the transition.
"Who really did that then?" Streep said. "It was very, very unusual. And he came back to school. He had three kids and stayed married, but he was himself, and he led the chorus."
But that wasn't Streep's only introduction to LGBT life. 
According to Streep, her piano teacher in Berkeley Heights, New Jersey, lived with his partner and she loved going to their house once a week for a piano lesson. 
Streep described their house as "magical" and an "entry into exotica." 
"My mother, who was born in 1915, never said — 'the boys,' she called them — she never said, 'The boys are gay,' or that there was anything that she disapproved of," Streep said. "But it was just that this is a different life, and ... they were living under the cover of the love of the people who loved them."
Streep did recognize that her piano teacher and his partner were "not acknowledged" and "not free to be themselves." 
Streep showed her dedication to the community, wearing a flag-themed dress when she spoke at the Democratic National Convention, which had more trans delegates than the Republican National Convention had black delegates.
Read more: