US Teen Virginia Thrasher Wins the First Gold Medal at 2016 Rio Olympics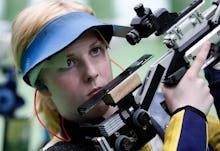 Virginia native Virginia "Ginny" Thrasher, 19, took home the first gold medal of the 2016 Olympics in Rio de Janeiro, locking up the top prize for the United States in the women's 10-meter air rifle finals.
Thrasher beat out numerous competitors including top-ranked Serbian shooter Andrea Arsovic, defending Chinese champion Yi Siling and another Chinese sharpshooter who has won gold medals in the past, Du Li. Thrasher's first shot was a perfect score of 10.5, followed by a nearly perfect second score of 10.4.
As a teenager, Thrasher "became the first freshman to win both individual NCAA rifle titles and helped West Virginia win the team title," the Chicago Tribune reported. "She followed that by winning the U.S. Olympic Trials less than a month later, earning a trip to Rio."
Thrasher, according to a recent profile in the Washington Post, originally wanted to compete in figure skating but discovered her talent for shooting after taking up deer hunting with her grandfather. The 19-year-old West Virginia University student is the youngest member of the U.S. Olympian shooting team.
As a shooter, Reuters reported, Thrasher has naturally drawn attention for the sport's connection to the gun rights debate in the United States — something she said is "really is just distracting from our sport, which is very different."
Read more: