Sloane Stephens' Ranking, Age and Other Facts About the US Olympic Tennis Player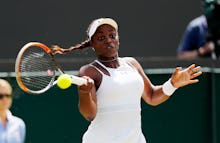 Sloane Stephens started her tennis journey at the age of nine when she moved from California to Florida to begin training. Now, at age 23, Stephens is widely considered the future of professional tennis, having won three tournaments this year. On Saturday, Stephens represented her country at the 2016 Rio Olympics.
Stephens' name became mainstream in 2013 when, during the Australian Open, she famously beat leading tennis star Serena Williams. While the win propelled her into the international spotlight, she still hasn't had a long and distinguished career like Serena or Venus Williams, or Caroline Wozniacki.
Here are five facts that everyone should know about Stephens as she competes in her first Olympics:
1. Stephens' mother is Sybil Smith who in 1988 became the first African-American swimmer to be named as a First Team All-American while attending Boston University. Smith later qualified for the 1988 Seoul Olympics, which gives mom and daughter plenty to talk about as Stephens is making her first foray into the Olympics.
2. Prior to becoming a professional, Stephens won three Junior Grand Slam Doubles titles (French Open, Wimbledon, and the US Open) in 2010 with her partner Timea Babos. While still participating in junior tournaments, Stephens won her first WTA match in 2009.
3. Her first Grand Slam semifinals appearance came after defeating Serena Williams at the 2013 Australian Open. Even after that win, she did not win her first WTA Tour title until 2015.  
4. According to the WTA,  Stephens has earned over $4.2 million in her career. Her 2016 player ranking stands at 22..
6. According to Stephens' website, Sloane is an avid cook. She received handwritten family recipes from her grandmother for her 18th birthday. "Cooking is so peaceful," she says. "No TV, no phone, just me and my ingredients."
Read more: