Delta Airlines is Showing a Censored Version of Lesbian Romance 'Carol' Without Kissing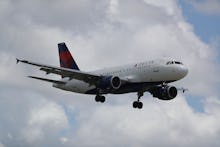 Delta Airlines passengers watching award-winning 2015 film Carol, a film about a forbidden 1950s-era lesbian romance starring Cate Blanchett and Rooney Mara, are being treated to an edited version of the film which removes not just sex scenes but all same-sex kissing from the movie.
The Delta Airlines-approved version of Carol was first noticed by comedian Cameron Esposito, who joked that purged of even a single lesbian kiss, censors had successfully created "a movie about staring."
According to Esposito, whatever standard used to shield Delta passengers from physical expressions of LGBTQ love did not shield them from a movie playing on a nearby passengers in-flight television involving "Paul Giamatti ... participating in BDSM w/ a lady."
Carol deals with 1950s-era homophobia and institutionalized discrimination against LGBTQ people in that time period, so an edited version of the film stripped of all same-sex kissing is somewhat of a bad look.
For its part, Delta says the decision was made by the film studio, which issued only one edited version of the movie for commercial use. That version also strips out several explicit sex scenes, which was what the airline was concerned about.
"If we were worried about kissing we wouldn't be showing the film in the first place, but because there are scenes with more than a few seconds of nudity, we opted for the edited version instead of the theatrical version," the airline told Entertainment Weekly in a statement.
Read more: