What to Know About Copacabana Beach, the Site of the 2016 Olympics Volleyball Tournament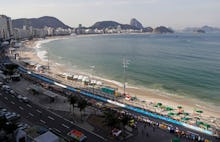 The 2016 Olympic beach volleyball tournament is underway on Rio de Janeiro's Copacabana Beach, known worldwide for hosting popular sports competitions but also for its beauty (it's frequently listed among the most popular beaches in the entire world). The 2.5-mile-long stretch of beach hosts parties for New Year's Eve every year, while also holding many different concerts and other events.
Now, it's playing host to Olympic beach volleyball, which features representatives from 16 countries on the men's side, with another 17 countries on the women's side, according to NBC. 
Here are three facts to know about Rio's Copacabana Beach:
The beach is host to the FIFA Beach Soccer World Cup.  FIFA reports that Rio, and the Copacabana Beach specifically, has been one of the most popular hosts of the FIFA Beach Soccer World Cup. The beach has hosted the event on 11 of 15 occasions, and while it was originally known as the Beach Soccer World Championship from 1995 to 2004, it merged with FIFA in 2005. After running each year through 2009, the tournament has now shifted to running every other year.
The contamination level in the water off Copacabana is incredibly high. While the beach itself may be beautiful, it doesn't necessarily mean that the water is. It has been widely documented that the water not only features high levels of contamination, but as ABC News reports, it could actually result in illness for those exposed to the water.
"The diseases that could affect people that are exposed to these types of pathogens could be an acute respiratory disease, things like typhoid, hepatitis, gastroenteritis, dysentery and even ear infections," Jennifer Carey, the founding principal and CEO of JLC Environmental Consultants, told ABC News.
Rod Stewart's New Year's Eve Party was one for the ages. According to the BBC, more than a million people showed up to a Rolling Stones concert on Copacabana beach back in 2006, but it couldn't top what Stewart brought in. Back in 1994, Stewart held a concert at the beach, and it drew in an amazing 3.5 million people.
Read more: