5 Top US Olympic Athlete Snapchats You Have to Follow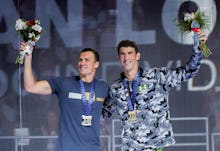 With the 2016 Olympics just underway, Snapchat, an application that allows users to take pictures, videos, and create "stories" to share with their followers, will become an important aspect how viewers experience the games. Athletes using the app will be able to document in real-time their journey through Rio, giving their followers an up-close-and-personal look into the world of Olympics sports.
Here are five United States athletes to follow on Snapchat during the 2016 Rio Olympics:
Draymond Green (money23green): Draymond Green is first on this list because of his troubles with Snapchat in the last couple of weeks, in which he shared an NSFW picture of his penis. Even with that social media blunder — he later apologized for sharing the photo — Green's Snapchat is worth following and features pictures with USA basketball teammates and tons of singing.
Ryan Lochte (ryanlochte): Ryan Lochte colored his hair blue prior to departing for Rio — which could be an indication of more unexpected Lochte moments to come while in Brazil.
Ibtihaj Muhammad (ibtihajjj): This Snapchat could be one of the more surprising feeds. Ibtihaj is the first U.S. Olympian to compete while wearing a hijab. She is set to be one of the major stories of the Olympic games and an athlete that will be taking in all the sights and celebrities. Her Snapchat may be the one that is more uplifting than entertaining.
Serena Williams (serenaunmatched): Between her socially conscious tweets and random late night tweeting, Serena is bound to have some gems in Brazil with her sister Venus Williams. Maybe her followers will get a reenactment of the Beyoncé video she appeared in?
Breanna Stewart (bre_stewart30): When covering the U.S. Women's basketball team, it becomes apparent that its members certainly have personality. While most of the team has Twitter, Facebook and/or Instagram, Stewart is the only one on the team with a Snapchat. She will be the conduit to the rest of the world for the possible absurdity between both the women's and men's basketball team during the Olympics.
Read more: