Rio Olympics 2016: Gunfire Rips Through Side of Press Tent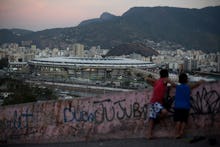 In the months leading up to the 2016 Olympics in Rio de Janeiro, some Brazilian police officers took to the streets to protest high crime rates, government mismanagement and the slashed law enforcement budgets throughout the country, warning tourists might be walking into an unsafe "hell."
While that might have been an exaggeration, the first day of competition at the Rio Olympics on Saturday did see stray gunfire tear through a media pavilion at the Olympic Equestrian Center, the Associated Press reported.
Fortunately, no injuries were reported as a result of the incident.
"Authorities are investigating: the type of bullet, the distance, where it comes from, why it comes here," Olympics spokesman Mario Andrada told the AP. "The first information that we got is that they can clearly determine this area was not the target, it was a stray bullet. ... More than one source in the different security areas have emphasized that they have 100 percent assurance that it has nothing to do with the games and with the presence of the Olympic family and the press in this area."
Finding out where the bullet came from, however, is unlikely to assuage international visitors' concerns that a bullet was fired at all.
In 2015, the United Nations ranked Brazil as the world leader in homicides at 32.4 such deaths per 100,000 people annually in 2012, reported the L.A. Times. In absolute terms, Mic wrote in May, that puts Brazil roughly on par with death rates in the Syrian civil war.
With 80,000 security personnel present in the city, according to the International Business Times, experts believe visitors themselves will be safe as long as they stick to well-policed areas covered by the Olympic security cordon. However, Brazil's problem with crime and corruption will continue to plague locals until well after the police and military units guarding tourists have left.