Trans Performer Kicked Out of NYC Gay Bar for Using Women's Restroom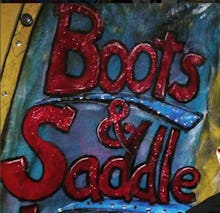 On Friday evening, transgender performer Valentine Steaphon took to Facebook to share her experience of being kicked out of New York City gay bar Boots and Saddle in the West Village. According to Steaphon's account, a cisgender woman confronted her as she emerged from the women's bathroom on Friday night. 
Steaphon and the woman exchanged words before the woman grabbed a security guard and began to explain that Steaphon's presence in the women's restroom made her "uncomfortable." 
"I think she wanted to fight; she just seemed really angry," Steaphon told Mic in a phone interview. "I just told her that you're in an LGBT space and we use the bathrooms how we want to use the bathrooms here."
She added, "She didn't want to hear it." 
Steaphon said she did not go to Boots and Saddle often, but was there to support a friend of hers who was performing at the drag lounge. 
According to Steaphon, the security guard told her that, "We cater to straight women here, and if you're in the women's restroom and she's uncomfortable, you're the problem, you can't be in there." 
For Steaphon, having to defend herself also meant having to educate those who were berating her, including another member of the LGBT community. She said that, as the cis woman spoke to the security guard, a gay friend of hers berated Steaphon and questioned her gender identity. 
"The girl and her gay friend are yelling at me, saying 'You shouldn't be in there,' and 'Unless you have titties and a vagina, you should not be in there, you're not trans,'" Steaphon told Mic.  "I feel like a lot of gay guys don't want to hear it. They don't know what makes someone trans."
She added, "I was kind of glad that it wasn't one of my friends because I feel like no one should have gone through that.  I was angry, I was disgusted, I was sad, I was confused. I was every kind of emotion in that moment."
Boots and Saddle did not respond to a request for comment from Mic, but they did address the incident with a post on their Facebook page. 
"We are saddened that a member of our LGBTQ community felt marginalized for using the restroom at our bar," the post reads. "We expect that every person who walks into our establishment feels safe and respected. To that end, we are taking measures to ensure that such an incident never happens again. Our signage is being updated to reflect what we have always believed — that our restrooms are gender neutral."
A manager from the bar told Out that the patrons — Steaphon and the other party involved in the altercation — were asked to leave the bar. 
"This is not an incident regarding whether or not a certain gender could use the restroom," the manager told Out. 
New York City recently debuted a citywide campaign educating New Yorkers that transgender  people are legally allowed to use the bathroom that matches their gender identity. 
Though people may consider New York City a liberal bastion, that has not prevented some transgender New Yorkers from facing discrimination. In May, trans New Yorker Pearl Love shared video of a vile transphobic attack she faced on the subway. 
Read more