Iran Confirms It Executed the Scientist Who Gave US Information About Nuclear Program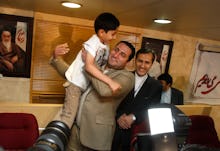 An Iranian nuclear scientist who provided the United States with intelligence about his home country's controversial nuclear program has been executed in Iran, Gholamhosein Mohseni Ejehi, Iran's judiciary spokesman, confirmed Sunday. 
According to the Associated Press, Ejehi said the scientist, Shahram Amiri, had "provided the enemy with vital information of the country," but did not offer any details about when or where the execution had occurred, or why it happened years after the transgressions Amiri stood convicted of had taken place.
Amiri's situation was exceptional because of the mystery surrounding it. 
According to U.S. officials who spoke to the Associated Press in 2010, Amiri, who had previously run a radiation detection program in Iran, willingly agreed to provide the CIA with intel about Iran's nuclear capabilities in exchange for $5 million, although he never acquired the money. 
Eventually, Amiri returned to Iran. Foreign analysts hypothesized that government authorities in his home country might have made threats against his family as a tactic to encourage his return, according to AP.
But when he touched down in Iran, Amiri told a version of the events that were in stark contrast with that of U.S. officials.
Amiri claimed U.S. officials had kidnapped him during a holy pilgrimage to the Saudi city of Medina. He said he had been "under the harshest mental and physical torture," and that his captors had bribed him with $50 million not to return home."
Amiri's version of events also diminished his role in the exchange of information, according to the Guardian.
"I have some documents proving that I've not been free in the United States and have always been under the control of armed agents of U.S. intelligence services," he told reporters at the time. "I am a simple researcher who was working in the university. I'm not involved in any confidential jobs. I had no classified information."
The case resurfaced in the public consciousness after the 2015 leak of emails from the server of then-Secretary of State Hillary Clinton, who is now the Democratic presidential candidate.
Cryptic emails from 2010 from Richard Morningstar, former State Department special envoy for Eurasian energy, that were forwarded to Clinton made oblique references to Amiri's situation —even before it had become a national news story.
"We have a diplomatic, 'psychological' issue, not a legal one. Our friend has to be given a way out," one email read. "We should recognize his concerns and frame it in terms of a misunderstanding with no malevolent intent and that we will make sure there is no recurrence. Our person won't be able to do anything anyway. If he has to leave so be it."
Read more: