NBC's Dan Hicks Says Swimmer Katinka Hosszu's Husband Is "Man Responsible" for Her Win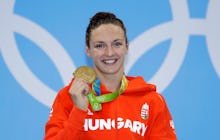 Behind every good woman, there's a man responsible. Right?! Wrong.
So said the internet after NBC commentator Dan Hicks swung the spotlight off Katinka Hosszu, a Hungarian swimmer who'd just broken the world record in the 400-meter individual medley, and onto her husband/coach, Shane Tusup. Actually, "shattered" is probably more apt than "broke:" she shaved a substantial two seconds off the previous record to win her first Olympic gold medal Saturday. 
As the Washington Post reported, Hicks deemed Tusup "the man responsible" for making his wife into the powerhouse she is today. Someone should probably notify the judges, so that Hosszu's medal can be re-awarded accordingly. Viewers were quick to call out Hicks' wording. 
"Sorry, did I just see a swimmer shatter WR only to have NBC pan to her husband & say 'there's the man responsible'?" one Twitter user asked. Indeed, she did. 
On Sunday, Hicks refused to walk back his comments. He maintained that Hosszu has spoken to him of Tusup's integral role in her success; how he drove her to train harder and rebuilt her confidence after she lost the 400-meter IM at the 2012 London Olympics.
"It is impossible to tell Katinka's story accurately without giving appropriate credit to Shane, and that's what I was trying to do," Hicks said, according to the Associated Press.
As the Cut pointed out, Tusup has been active in his wife's career, his enthusiasm becoming a little too passionate on occasion. A recently-published New York Times profile of Hosszu and Tusup suggests that the so-called Iron Lady — who asked then-boyfriend Tusup to coach her following the 2012 upset — labors under intense scrutiny from her spouse. According to the Times, he mixed violent language with affection at an April Grand Prix meet in Arizona:
"After the backstroke, Hosszu avoided making eye contact with Tusup, who upbraided her while swimmers from other teams stared. Tusup continued his critique in the warm-down area, where two people said they overheard him suggesting to Hosszu that she stay in the water and drown. The night ended with Tusup kissing Hosszu on the forehead and pulling her close in a long embrace on the deck."
Tusup is an animated onlooker, as anyone watching Saturday's broadcast will know. But as Olympic medalist Jessica Hardy told the Times, Tusup often treats Hosszu in ways that are "inappropriate" and "not-O.K." 
"I've seen coaches exhibit that kind of behavior in training, but this is another level," Hardy said. "It's scary."
On Saturday, Hicks had a different take on Tusup's poolside comportment. "It's been a little disturbing to some of the other swimmers who have observed it," he said on-air, according to the AP. "But he has turned her into a tiger in the pool."
Read more: