A Very Necessary Celebration of Kim Kardashian West's Decade-Long Style Evolution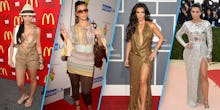 When the world was first introduced to Kim Kardashian West, in 1995, she was the polite middle daughter of O.J. Simpson's best friend and defense attorney, Robert Kardashian. But a little more than 10 years later, in 2006, the world would be introduced to her once more, except this time, she was all grown up, and a member of Paris Hilton's entourage. 
Back then, Kardashian West's life didn't entail being a successful author, or the head of her own $149 million empire, or one half of the most well-known couples in the universe. Back then, her life entailed organizing Paris Hilton's closet for a living. 
Just imagine, Kardashian West perusing through racks of Juicy Couture sweatsuits, begging Paris Hilton to throw away just one. 
Ten years later, after a leaked sex tape and a hugely successful reality TV show almost immediately after that, Kim's job isn't the only thing that's changed. 
With a decade of true fame under her many belts, it's her fashion that remains the most drastic and surprising change of all. Given that she broke onto the scene in 2006 as a girl from Calabasas who loved to party, there wasn't much hope that she'd become a style icon. But with some determination and — presumably — a damn good stylist, she's now one of the most recognizable and fashionable women in America. 
So, to celebrate her decade in the limelight, it feels only right to celebrate every year we've known her, and revisit some of her most iconic and bizarre looks. 
Let's just say she's learned a lot. 
2006: The year Kim Kardashian discovered belts. 
What is so beautifully ironic about the fact that Kardashian's entire job was sprucing up Paris Hilton's closet is that, in 2006, she dressed like a woman who had just had a Dress Barn shopping spree, blindly grabbing at whatever items kinda went together. A cardigan and a tank top and a belt? Naturally. A sweater dress and calf-high boots? Duh. 
Her most notable looks during this period involved wearing a belt with everything imaginable. 
2007: Is this satin and/or body-hugging? Fine, Kim will wear it. 
Let 2007 go down as the year Kim Kardashian stopped it with the belts (and the cardigans, and the capes), and started getting sexy, opting for body-hugging bandage dresses and plenty of cleavage. This was the year she started dressing like the rebellious daughter of a Real Housewife. This year will live in infamy for Kardashian, largely because it was in 2007 that her sex tape with Ray J was leaked — and, of course, it was the beginning of Keeping Up With the Kardashians. 
Among her favorite looks were satin dresses that looked like they were just a few shimmies away from tearing in half, and skintight, slightly sheer sweater dresses. 
This was the year that Kardashian started looking more like the Kardashian we know today, but since this was a transition period for her, she had her missteps, too — like this one dress where she looks like Jane from Tarzan living in the jungles of Las Vegas, and that one time she wore leggings under a dress on a red carpet. 
2008: Kim Kardashian remembers that she really loves her breasts. Oh, and glitter. 
Since 2008 would be the year that the American people would really start to keep up with the Kardashians — through the growing success of their reality show — Kim made sure she made an impact and outshone her sisters. How? She used both her breasts and some glitter — as it should be.
This was the year that Kardashian started fully embracing her curvy physique — yanking her breasts up to her chin at every occasion possible and wrapping herself in enough sparkle that she could rival the glitter aisle at a Michaels craft store. 
2009: Kim Kardashian then remembers she loves animal print and incredibly ugly jackets. 
The year is 2009, and Kim Kardashian loves any and all animal prints. Extra points if the print is hot pink. 
She also loves statement jackets that make her look like Lady Gaga. ...
... and, yes, she still loves to sparkle. 
She also likes to pose like this. 
It was a dark time. 
2010: Kim's look gets much tamer. We blame Reggie Bush. 
With all the sparkles and cleavage that went on in 2009, Kim Kardashian decided to take a break in 2010. Rather than looking like a girl attending her friend's bachelorette weekend in Las Vegas, Kardashian started dressing like a woman at the helm of her own empire, which is exactly what she was becoming. This is the year she emerged as the definite star of Keeping Up and as a tabloid favorite, with the show's fifth season premiere alone bringing in more than 4 million viewers. 
She still had her sparkles and a bit of cleavage, but Kardashian consistently wore more professional garments this year, from jackets with shoulder pads to anything with a higher neckline. This also happens to be the year Kardashian ended it with Reggie Bush, so it's only right that he gets the blame for this. 
2011: Kim starts dressing super elegant ... most of the time. 
Fresh off her breakup from Reggie Bush, Kim Kardashian learned how to get dressed like a real movie star. To major red carpet events, she wore lace and bejeweled gowns. But, at the same time, she didn't forget who she was. 
During 2011, Kardashian had two looks: sultry, Armenian-American movie star and then ... uhm ... what the fuck? 
She wore dresses with tulle at the tummy, and jackets shaped like triangles. One day she'd stun on the red carpet and then the next, she'd look like she'd just been abducted by aliens who had erased her memory of what good fashion looks like.
Kim Kardashian and America deserved better than this. 
2012: Kim Kardashian turns into the 21st Century's Marilyn Monroe. 
And in 2012, we got better. Kardashian's style matured and she started her relationship with Kanye West, who (if you don't know this already) really, really, really cares about fashion.  
As West and Kardashian started their courtship during the summer, Kim's look simplified and turned more modern. It was like she realized her role as the 21st century's Marilyn Monroe, fulling leaning into glamorous red carpet looks that erased any memory of her previous love of hot pink cheetah print. 
Now, she was wearing simple leather dresses, as well as high-fashion designer duds from Marchesa and Balmain, who's now a Kardashian West favorite. 
2013: Kim Kardashian redefines what maternity wear really means. 
In 2013, Kim Kardashian, who was not yet Kim Kardashian West, was pregnant with her first child. But thankfully, that didn't stop her from dressing like Kim Kardashian. 
She still loved her sheer clothing. She still loved dressing like a temptress. She loved to sparkle. A baby bump just wasn't going to stop her from being a sexy, fashionable woman.  
Although sometimes she would use enormous shoulder pads to balance out her mid-section (tragic), Kardashian was successful in not giving into maternity wear trends like overalls or muumuus. 
There was, however, the couch dress. 
But we choose to forgive her for this one. Kardashian gave birth to her daughter, North West, just one month later. Just being at the Met Gala that year was an Olympic feat unto itself.
2014: Kim Kardashian West goes full Yeezy.
On May 24, 2014, Kim Kardashian got married to Kanye West in Florence, Italy. This was the beginning of not only Kardashian and West's legal union, but also their fashion union. Around the time of their wedding, people started noticing how Kardashian West's wardrobe had changed even more. 
By the end of 2014, she favored a palette of black, white, cream and light brown. For fancier occasions, she stuck to jewel tones. She wore fur and latex and body-hugging leather and lace. Although there were certainly events where Kimlet her Kardashian flag fly (like here and here and here), her relationship with West had apparently influenced her luxe new aesthetic, switching out sequin bomber jackets for silk capes, and satin and glitter for leather and crystals. And of course, there was now lots of Balmain. 
2015: Kim Kardashian West has a love affair with sheer clothing.
Just one year ago, it seemed we would never live in a world where Kim Kardashian West wasn't wearing something sheer. She'd wear sheer shirts under suits, sheer, long-sleeved shirts or entire sheer dresses save for some embroidery or crystals and feathers. For an entire year, it was like she was living in a sheer tube. 
Thankfully for her, sheer clothes aligned well with her aura of being a provocative business woman unafraid of her own sexuality. Worried about seeing the breasts of a mother-of-one (and soon to be two)? Too bad for you. 
Throughout the year, and even throughout her second pregnancy, Kardashian West wore every sheer item of clothing she could find. It was truly heroic. 
2016: Kim Kardashian West just wants to have fun. 
So far, in 2016, more than ten years after her debut, Kim has appeared to have found her fashion niche, and that niche is about having fun. 
At public appearances and red carpet events, she shows up in head-to-toe bling, or in see-through, patterned dresses. She doesn't follow rules, per se. She makes them. 
Now, because of her, curvy, petite women everywhere know they have a right to wear quite literally whatever the fuck they want, whether that be covering themselves in crystals or wearing a dress that makes them look nude. 
These are all styles that look fun to wear. Yes, her sexy Tin Man look at the Met Gala looked extremely heavy, but the one thing you should know by now is that Kardashian West doesn't take herself too seriously. 
If she thinks she looks good in a dress, she's going to wear it. 
So, in just 10 short years, Kim Kardashian West went from this: 
To this: 
And we couldn't be prouder.