Obama, Knees Weak and Arms Heavy, Rocks Out to "Lose Yourself" Backstage at the DNC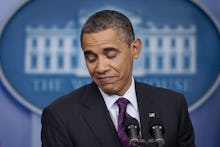 Brace for so many Barack Obama/mom's spaghetti memes, courtesy of Hillary Clinton. Her campaign released Thursday a compilation video of behind-the-scenes footage from the Democratic National Convention, and buried in it is a sparkly gem.
Cool POTUS can be seen rocking out to what we can only assume is his favorite track, Eminem's "Lose Yourself," at the 0:59 mark. 
The footage suggests that the 2002 hit, featured prominently in Eminem biopic 8 Mile, is someone's hype music, their go-to jam when mentally preparing for big speeches. Is it Obama's pump-up track? It might just be. (It is.)
As evidenced by Obama's Spotify playlists, which he released in August 2015, America's dad has solid taste in music. His apparent love of "Lose Yourself" is maybe the exception that proves the rule — it's also given us a moment to treasure forever.
His palms are sweaty, knees weak, arms are heavy.
There's vomit on his sweater already. 
Mom's spaghetti.
Read more: