A Major DC Think Tank Has Sold Out to Corporations, Reports New York Times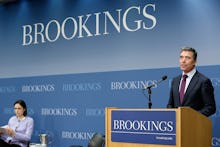 The Brookings Institution, one of the country's most prestigious think tanks and a major adviser to politicians running the gamut from liberal to conservative, regularly accepts huge injections of corporate cash in exchange for lending their intellectual weight to corporate causes.
That's the conclusion of a major report released on Sunday in the New York Times in conjunction with the New England Center for Investigative Reporting.
On one occasion in 2010, Brookings accepted $400,000 from Lennar Corporation, a major developer, and soon thereafter began "aggressively" putting its experts to work pushing a $8 billion project to redevelop large stretches of San Francisco. The institute also appointed Lennar employee Kofi Bonner a senior fellow at Brookings, and Brookings Vice President Bruce Katz told the corporation he believed the two organizations could have a "mutually beneficial relationship."
An isolated incident this was not.
"Thousands of pages of internal memos and confidential correspondence between Brookings and other donors — like JPMorgan Chase, the nation's largest bank; K.K.R., the global investment firm; Microsoft, the software giant; and Hitachi, the Japanese conglomerate — show that financial support often came with assurances from Brookings that it would provide 'donation benefits,'" the Times wrote.
_____________________________________________
Read more: 
Said benefits varied from positive reports and friendly media appearances by Brookings experts to arranging meetings between government officials and corporate representatives. Indeed, in some cases the documents seem to show Brookings employees allowing sponsors to help dictate the content of reports.
This behavior raises serious issues as to whether organizations like Brookings — which enjoy federal nonprofit tax status — are actually working more like lobbyists — who do not — and whose bias is implicit in their function. When public figures cite think-tank reports, the intent is often to imbue positions with a kind of psuedo-academic impartiality. So if those reports are taking their cues from corporate donors, it poses all sorts of questions as to the impartiality or even basic validity of the research.
While Brookings is sometimes considered a liberal think tank, progressive media critic Fairness and Accuracy in Reporting argued in 1998 it is more accurately characterized as "establishment" centrist or neoliberal, with many of its staff sourced from the moderate wings of the Democratic and Republican parties. In 2014, the Washington Post wrote some researchers on the think tank's payroll as well as outside observers had become concerned the institution was becoming emblematic of growing corporate influence in politics. Though Brookings maintained donors had no control over research, the Post noted wealthy contributors had immense power to "determine the broader research agenda."
The institution has some powerful devotees, among them Democratic nominee Hillary Clinton, who the Intercept noted took to Brookings in September 2015 to deliver a major speech on foreign policy. But the institution hosts or advises countless other political figures from Obama-administration officials and Republican politicians to world leaders. In an era where the Republican Party has drifted away from crafting policy to an increasingly conservative agenda, Brookings has sometimes issued reports highly critical of the GOP.
While the Times' report is bad news for Brookings, the paper made clear the concerns apply to the larger think-tank world and its role in government policy.
The Times also took a shot at the hawkish Center for Strategic and International Studies, which set up confidential meetings between military officials and General Atomics, the manufacturer of Predator drones, in an attempt to persuade them to push the Obama administration to end a ban on the sales of those drones to foreign nations.
The right-wing think tank the American Enterprise Institute, a major global-warming denier and advocate of free-market economics, takes major donations from energy companies, the Koch brothers, and numerous conservative foundations and funds.