Rio Olympics 2016 Medal Count Day 2: Here's Who Took Home the Gold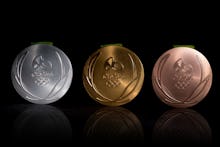 The 2016 Olympic games are underway in Rio de Janeiro, and two days in, dreams have been achieved, hopes have been dashed and one woman's victory has been inaccurately attributed to her husband. 
As Sunday's events unfold, Australia leads the pack for most gold medals with a grand total of three, with five total medals under their shared belt. Italy and China each have two gold and seven medals total; South Korea has two gold and five medals total; Hungary has two gold, while the United States has just one gold but seven medals all together. 
With a little help from Olympic.org and Bleacher Report, we're keeping count on all the medals won on day two of the 2016 Olympics. Stay tuned to see who takes the podium Sunday night. 
Women's 10-meter air pistol shooting
• Gold: Mengxue Zhang (China)
Zhang, 25, took home China's first gold medal in Sunday's 10-meter air pistol shooting event, one in which China has won during four of the past five Olympic games. She scored 199.4 points in 20 shots, while Batsarashkina scored 197.1 and Korakaki score 177.7. 
Women's road race
• Gold: Anna van der Breggen (Netherlands)
Dutch cyclist Annemiek van Vleuten was leading the pack for gold in the women's road race, when she wiped out on a curve. The crash was serious, but afterward, van Vleuten was conscious and taken to the hospital. Her teammate, van der Breggen, overtook first place and ended up winning the gold. 
Women's 53-kilogram weightlifting (group A)
• Gold: Shu-Ching Hsu (Chinese Taipei)
Shu-Ching Hsu, of Chinese Taipei, bested favorite-to-win Li Yajun for her country's first weightlifting gold medal, lifting a total of 467.3 pounds. Hidilyn Diaz lifted a total of 440.9 pounds and Jin Hee Yoon lifted a total of 438.7 pounds. 
Women's trap
• Gold: Catherine Skinner (Australia)
Catherine Skinner bested Natalie Rooney in the gold-medal match, while Rooney beat Corey Cogdell-Unrein in a shoot-off after tying for second place. Cogdell-Unrein then went to another shoot-off with Fatima Galvez of Spain, winning this time to secure her second Olympic bronze medal. 
Women's synchronized 3-meter springboard final
• Gold: China
Wu Minxia and her springboard partner Shi Tingmao grabbed gold in the 3-meter synchronized final, making Minxia the "greatest champion in Olympic diving history," according to NBC. Minxia and Tingmao scored 345.60 points, while Italy's Tania Cagnotto and Francesca Dallapé earned 313.83 points for silver and Australia's Maddison Keeney and Annabelle Smith took home bronze with 299.19 points. 
Women's judo 52kg
• Gold: Majlinda Kelmendi (Kosovo)
According to Bleacher Report, Majlinda Kelmendi beat Odette Guiffrida during the gold-medal match Sunday, while Misato Nakamura and Natalia Kuziutina won the two bronze medal events. Kelmendi's medal is the first gold for Kosovo in the 2016 Olympics. 
Women's team archery
• Gold: South Korea
South Korea has brought home the gold in women's team archery at every Olympic games since 1988, according to the Bleacher Report. Sunday was no exception, with South Korea besting Russia five to one, landing those teams the gold and silver medals, respectively. Chinese Taipei beat out Italy for the bronze. 
Read more: