Rio Olympics 2016 Day 2 Recap: The Most Viral Moments From Second Day of the Games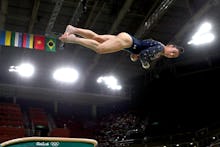 Dutch cyclist Annemiek van Vleuten crashes hard during women's road race
Ouch. Near the end of the women's road race, Dutch cyclist Annemiek van Vleuten was in the lead before she crashed into a barrier on the descent to Rio's Copacabana Beach, resulting in the race being won by fellow Dutch competitor Anna van der Breggen. According to the New York Times, medical staff say she is in stable condition.
Entire Russian Paralympic team banned from competition
According to CNN, on Sunday the International Paralympic Committee banned the entire Russian team from competing in the upcoming Paralympic Games in September following widespread allegations of doping among the country's athletes. Among Russia's current Olympic team in Rio, 118 of 389 competitors have been disqualified.
Russia "catastrophically failed its para athletes," International Paralympic Committee President Philip Craven said, according to CNN. "Their medals-over-morals mentality disgusts me."
U.S. swimmer Katie Ledecky nearly destroys own world record in women's 400-meter freestyle
Ledecky came close to setting a new world record in swimming, but "had to settle for setting an Olympic record with a time of 3:58.71," reported the Washington Post. "The mark fell just short of her world record mark of 3:58.37, set at the Pan Pacific Championship in 2014 in Australia."
Majlinda Kelmendi wins Kosovo's first medal ever — a gold in judo
Kelmendi defeated Italian athlete Odette Giuffrida, winning her first gold medal in the martial art of judo — and Kosovo's first-ever Olympic medal, according to CNN.
While it's Kelmendi's first time winning the gold, CNN reported she won two world titles and three European crowns in the past three years.
U.S. ties for lead in overall score, but Australia has the most gold medals
The U.S., Italian, Japanese and Chinese teams led with seven medals each as of late on Sunday, although Australia was in the lead in gold medals with three — slightly ahead of Italy, China, South Korea and Hungary, each of which racked up two.
According to SB Nation, while the U.S. had strong showings in swimming competitions on Sunday, so far the only athlete to bring home the gold for the states is 19-year-old Virginia Thrasher, who won the women's 10-meter air rifle competition handily on Saturday.
Read more: