At 41 Years Old, Rio Olympic Gymnast Oksana Chusovitina Is Proving Age Means Nothing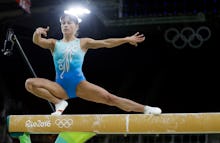 Oksana Chusovitina, a gymnast from Uzbekistan, has competed in each of the past seven Olympics. At 41, the Rio Olympian stands in stark contrast to her competition — the youngest of whom is two months younger than Chusovitina's 17-year-old son. In a sport that prizes youth (U.S. gymnast Aly Raisman is called "Grandma Aly" at age 22), Chusovitina is a standout who shows no signs of stopping.
"I am feeling good," she recently told the Associated Press. "On the podium, everyone is the same whether you are 40 or 16. You have to go out and do your routine and your jumps."
Chusovitina's first Olympics were the 1992 Barcelona Games. At the time, she was 17 — an age better aligned with those of her fellow gymnasts in Rio. According to the Telegraph, one of her teammates from Barcelona is now her assistant coach. Chusovitina has competed in every Summer Olympics since 1992, but due to a complicated personal history, she's done so under two different flags.
In 1997, Chusovitina married Olympic wrestler Bakhodir Kurbanov, also from Uzbekistan; the pair had a son, Alisher, in 1999. Alisher's 2002 leukemia diagnosis prompted the family's move to Cologne, Germany, where Alisher received treatment. His mother, after gaining German citizenship, began training with the national team. 
In 2008, she competed in the Beijing Olympics for Germany, taking home the silver medal for vault. Chusovitina announced her retirement at the 2012 games, but ultimately, she didn't follow through: She's once again competing for team Uzbekistan.
While many eyes are watching 19-year-old favorite Simone Biles and the slightly older Raisman, viewers can count on Chusovitina to show up and, consistently, kill it. Her age, as retired 24-year-old Olympic gymnast Shawn Johnson told ESPN, is irrelevant. 
"No one even knows how old she is anymore because it seems like she's been to the last gazillion Olympics," Johnson said. "She's incredible. She is a legend."
Read more: