Kentucky Landord Evicts Gay Couple, Says She Should've "Never Rented to the Faggots"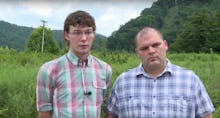 From the state that brought us Kim Davis comes another story of ignorance and hate toward gays. 
A Clay County, Kentucky, couple claims their landlord evicted them solely because they were gay. How do they know that? She let them know with one colorful anti-gay slur. 
"She said she should have never rented to the faggots," Joshua Melton told WYMT. Melton and his husband James Feltner rented a townhouse in Manchester, Kentucky — in June, after living there for about nine months, their landlord gave them one day's notice to pack their belongings. 
The landlord wasn't just any Kentucky citizen — she's Manchester City Council Member Esther Thompson. 
WYMT couldn't find an eviction noticed filed with any official, but they did find a complaint Thompson filed a month after the eviction seeking $2,500. In the complaint, Thompson said the tenants violated the lease by having six dogs inside the apartment. 
"In my 30 years in the rental property business, this is by far one of the worst I have seen," Thompson wrote in the claim. 
"Yeah she's lying," Melton told WYMT. "There were three dogs. Chihuahuas that we've had forever and she knew that we had them. The carpet was not destroyed."
Thompson did not comment on the story when contacted by WYMT, choosing instead to hang up the phone. 
Kentucky Equality Federation has since taken up the couple's case, which includes a claim that Thompson assaulted Melton during the eviction. 
"During the illegal eviction, an emergency room visit was necessary for Joshua L. Melton due to a head injury sustained after being struck by City Council Member Esther Thompson, who also stated to witnesses that 'she owned the police,'" Kentucky Equality Federation wrote in a blog post. 
The Federation claims that local officials declined to get involved in the case, though Clay County Attorney Clay Bishop Jr. told WYMT that the claim is "obviously inaccurate" because he helped them file a criminal complaint against Thompson. 
"Discrimination, we won't tolerate it in any form in any part of the Commonwealth," Jordan Palmer of the Kentucky Equality Federation said. "It's just unfortunate that it's happened here in Clay County — again — but we will see the case through to the end until justice is served."
Read more: