Simone Biles' Unreal Performance at the Rio Olympics Has People Losing Their Damn Minds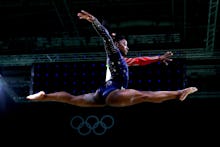 Simone Biles is considered by many to be the best gymnast of all time. At just 19 years old, Biles already holds the record for gold medals in the world championships and has her own signature move, "The Biles," according to the New York Times. She's also the only female gymnast to ever win three consecutive world all-around titles. 
If you have watched any of the Rio Olympics, you'll easily understand why Biles is considered the best. 
Biles' floor routine and performance on the vault were mind-blowing — and people on Twitter just didn't know how to react.
Biles, who scored an unheard-of 62.366s, was the top qualifier in three event finals — which means she could walk away from the Rio Olympics with five gold medals, a first for a female gymnast. 
Biles and Team USA — which is in first place — will compete in the finals on Tuesday.
"At this point in time, nobody can beat Simone Biles," Nastia Liukin, a 2008 gold medalist, told the Times. 
Read more: