Swimmer Katie Ledecky Won Gold and Beat Her Own World Record, And People Are Freaking Out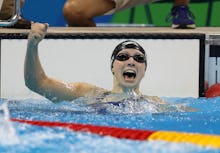 They say she's "better at swimming than anyone is at anything." Katie Ledecky, the 19-year-old U.S. swimming phenom, has fast become one of the biggest stars of the Rio Olympics.
Ledecky took home a gold medal yesterday in the 400-meter freestyle — beating her own world record in the process, the New York Times reported. Her time was 3 minutes and 56.46 seconds — nearly two seconds faster than her previous record, 3:58:37. Ledecky was so fast, she turned around and pumped her fist in the air before the other competitors even finished swimming.
Ledecky was also part of the U.S. women's team that took home silver in the 4x100-meter freestyle relay on Saturday. 
Needless to say, social media was bursting with praise for the nine-time swimming world champion, with some Twitter users calling her "freaking amazing" and "my hero."
This is just the beginning for the U.S.' newest swimming obsession. Later this week, Ledecky will compete in the 800-meter freestyle — the event in which she won a gold medal at the 2012 London Olympics. 
It's safe to say our hopes are high.
Read more: