4 Things About Rio 2016 Olympics Star David Boudia You Probably Didn't Know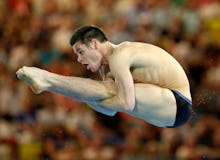 With the 2016 Olympics in Rio underway, there are quite a few rising stars spread across the 42 sports, and one of them is United States diver David Boudia. The 27-year-old has quite a few wins under his belt since the 2007 Pan American Games, including multiple World Championships, but his real breakthrough moment came back in London during the 2012 Olympics.
That year, Boudia won the gold medal in the 10m platform event. He was also a part of the United States team that won the bronze medal in the 10m synchronized event.
Here's a look at a few things that you need to know about the diving star.
He used to be "petrified" of the Olympic 10-meter platform. It's probably not easy for an Olympic diver to admit that the idea of actually diving terrifies him.  Boudia told the Washington Post in 2012 he was once "petrified" by the idea.
"You have to be crazy to jump from a three-story building and hit the water at 35 miles an hour." Boudia said.
He's certainly not wrong.
Boudia decided he wanted to be an Olympian when he was seven years old. Apparently, Boudia was just hanging out at the young age of seven watching the 1996 Atlanta Olympic Games, when he decided what his future would look like. According to his official website, Boudia was watching the opening ceremonies of those games and chose to set his future goals. The dream came true 12 years later, when he took part in the 2008 Beijing Olympics.
Boudia was once a judge on an ABC diving show. It was announced back in 2012 that Boudia would become the judge of an ABC celebrity diving show called "Splash," according to The Hollywood Reporter. The show was incredibly popular overseas, and it made its American debut (with Boudia) in early 2013. According to USA Today, Boudia was judging the likes of former NFL player Terrell Owens, pro surfer Bethany Hamilton and JWoww from the Jersey Shore, to name a few.
He dealt with depression after the 2008 Olympics. While Boudia had reached his goal of making the Olympics in 2008, he told Boundless about his dealing with depression after what he believed was a disappointing finish to the games. Then, as Boudia tells it, God brought his coach, Adam Soldati, into his life, introducing him to Christianity and helping Boudia re-build his career and his self-image. Now, Boudia is expected to compete in what may be his best Olympics yet.
Read more: