At Least 60 People Killed in Suicide Attack on Pakistani Hospital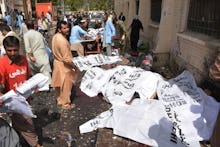 A suicide bomb detonated Monday in the emergency room of a hospital in Quetta, Western Pakistan, has left at least 60 dead and 120 wounded, the BBC reported. 
Lawyers and journalists had gathered at the Quetta Civil Hospital to mourn the loss of Bilal Anwar Kasi, the president of the Baluchistan Bar Association, who had hours prior been shot and killed while commuting to work. 
A "breakaway faction" of the Taliban, Jamaat-ul-Ahrar, claimed responsibility for the bomb blast, according to a tweet from the Associated Press.  
A senior police officer at the site, Zahoor Ahmed Afridi, said given the timings, the assassination and suicide bomb were likely coordinated attacks, according to the Associated Press.
"Even in times of war, no one attacks a hospital," Baluchistan chief minster Sanaullah Zehri said, the Guardian reported. He also vowed to combat terrorism 
Pakisanti Prime Minister Nawaz Sharif issued an impassioned statement, saying he felt "deep grief and anguish over the loss of precious human lives," according to AP.
The Prime Minister's brother, Shehbaz Sharif — who is also the Chief Minister of Punjab, a neighboring province — said in a tweet he "cannot even imagine anyone stooping as low as to target a hospital... Only those bereft of humanity can do that."
Prominent politician and former all-star cricketer Imran Khan echoed the sentiment, saying on Twitter that targeting a hospital was deplorable and those who committed the attacks were "cowardly terrorists."
Waliur Rehman, a survivor of the blast who had taken his father to the hospital to be treated, told AP there were "bodies everywhere."
Local television footage revealed a devastating scene of chaos and panic, the floor littered with the wounded and dead. 
Baluchistan is one of Pakistan's four provinces, bordering Afghanistan and Iran. It is the subject of a decades-long civil war between the central government and separatists; news of the war itself has been suppressed, both internationally and domestically. 
The military is strongly suspected of a frequent practice termed "pick up and dump," in which those involved in the separatist movement — even tenuously — are abducted, "tortured, mutilated and then killed," regional specialist Ahmed Rashid wrote for the BBC.
Prime Minister Sharif was resolute about thwarting future attacks, the New York Times reported.
"No one will be allowed to disturb the peace in the province that has been restored thanks to the countless sacrifices by the security forces, police and the people of Baluchistan," he said.
Aug. 8, 2016, 9:56 a.m. Eastern: This story has been updated.
Read more: