This Trans Model Wore a Dress Made of Flags of Countries Where Homosexuality Is Illegal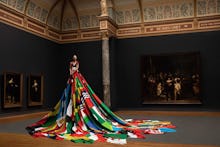 Sometimes, a fashion statement can also be a political statement. 
In a stunning image that's making the rounds on Instagram, transgender model Valentijn De Hingh stands in a colossal, multi-colored dress fashioned from the flags of the 72 different countries that have explicit laws regulating the expression of gender identity and sexuality, in an effort to draw attention to the plight of LGBTQ people around the world. 
According to the image's photographer, Pieter Henket, the idea for the Mattijs van Bergen-designed dress came during the preparation for this year's EuroPride, in Amsterdam, when these 72 flags were presented during the opening walk to represent the work that still has to be done to ensure queer and trans people can live safely. 
After the flags were presented, the designer van Bergen teamed up with COC, a Dutch organization for LGBTQ people, and decided to create this dress as a visualization of just how much work there is left for organizations like COC to do.
Henket was then brought in to take this grand portrait of De Hingh, the first transgender model to sign with IMG Models and EuroPride's first transgender ambassador. 
"And where [better] to do that than in front of one of the most beautiful paintings in the world, 'The Night Watch,' by Rembrandt," Henket wrote on Instagram. 
So now, we are left with this image: A trans woman stands tall in an enormous, visually stunning gallery in Amsterdam, wearing a beautiful dress crafted from the flags of countries that make it explicitly illegal to be queer and trans. Where to go from here? 
According to De Hingh, the ultimate goal will be for this dress to go from being a dress of many different flags to just one — the rainbow. 
"That little lady wearing the big dress is me," De Hingh wrote on Instagram. "Every country that changes its legislation will have its flag replaced by a rainbow flag. Let's hope this dress will represent a patchwork of rainbows sooner rather than later!" 
What Mattijs van Bergen's dress on a model like Valentijn De Hingh signifies is that sometimes a dress is much more than a dress. Sometimes, it can be a call to action. 
Read more: