Serena Williams' Net Worth, Career Wins and 3 More Facts About Olympic Tennis Player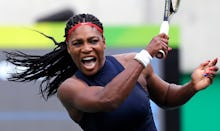 People have long debated whether Serena Williams is one of the greatest female athletes of all time. But in July, ahead of the 2016 Olympics, the 34-year-old tennis player said in a press conference that she will accept nothing less than "one of the greatest athletes of all time" — gender need not apply.
While such a title might be considered inherently subjective, in Williams' case, it's hard to object: She's held down the Women's Tennis Association's No. 1 spot consistently since 2013, when she bested Czech player Petra Kvitova at the Qatar Total Open. As of February, she'd maintained the title for 157 consecutive weeks — the second-longest winning streak of anyone in the WTA. 
According to Forbes, Williams' athletic excellence has earned her a net worth of $150 million and edged out Maria Sharapova as the world's highest paid female athlete in June. In addition to her reported $77.6 million career prize money, Williams boasts endorsements from major brands like Nike, Beats and Pepsi. 
There's relatively little threat to Williams' legacy, with her snatching up her 22nd grand slam win at Wimbledon last month, before heading to Rio to win her first match since.
Here are a few other fast facts about the Olympic athlete:
1. She's competed at the Olympics three other times
Williams attended the 2000, 2008 and 2012 Olympic games. According to CNN, she pulled out of the 2004 Athens Olympics on the recommendation of doctors who warned her against risking long-term trauma to her knee following an injury. 
"I am sad and disappointed, not only because I am unable to travel to Greece and participate in the Olympics but also because I gave my word that I would play," she told the outlet at the time.
The world likely forgave her after she clinched a haul of gold medals in Beijing and London for both singles and doubles tennis. 
2. She has some superstitious good luck rituals
Rumor has it, Williams has a few quirky rituals she must do before stepping out onto the court to defend her title. According to Biography.com, the championship tennis player insists on using the same shower, tying her shoes the same way and wearing the same socks for the duration of a tournament.  
3. She's spoken out against sexism in women's tennis 
In a press conference following her 2016 Wimbledon win, Williams challenged the idea that female tennis players should be paid less because their matches are shorter. 
"I would like to see people, the public and the press and other athletes in general just realize and respect women for who we are, what we are and what we do," she said, according to the Independent. 
"I've been working at this since I was 3 years old. [...] Basically my whole life I've been doing this and I haven't had a life and I don't think I deserve to be paid less because of my sex," she said. "Or anyone else for that matter, in any job."
Read more: