Weightlifter Hidilyn Diaz Made History as First Filipino Woman to Win Olympic Medal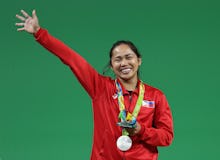 When Hidilyn Diaz lifted 200 kilograms of steel iron, she also lifted the spirits of her home country.
Diaz, a three-time Olympic weightlifter, became the first Filipino woman to win an Olympic medal when she won the silver medal in the 53kg women's weightlifting class on Sunday, Mashable reported. Diaz's silver medal win ended a 20-year Olympic medal drought for the Philippines. 
Diaz also wants to use the prize money from the Olympic games to build a weightlifting gym in the Philippines, according to Filipino news site ABS-CBN News. 
The last Filipino to win an Olympic medal, according to Mashable, was Mansueto Velasco. Velasco won silver for men's boxing in the 1996 Atlanta Olympic Games.
At the 1998 Seoul Olympics, Arianne Cerdeña won the gold medal for the Philippines in bowling. Since bowling was only included as an exhibition sport at the games, however, her win isn't considered in the medal score count.
Diaz also made a milestone for the Philippines by being the first to win an Olympic medal for the country in weightlifting.
Read More: