Will Frank Ocean's 'Boys Don't Cry' Be Released November 13? Fans Point to an Obvious Hint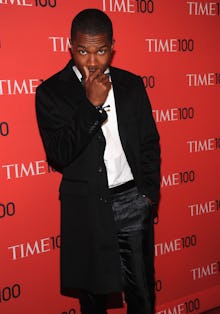 First it was July 2015, then July 2016, then Friday — each rumored release date for Boys Don't Cry, Frank Ocean's highly anticipated new album and magazine combo, has come and gone without event. Ocean is still working on his Endless construction project, and as anyone who was diligently checking the livestream over the weekend will tell you, Frank takes weekends off. 
The empty livestream gave fans time left to scrounge up new clues for the next plausible release date, and the one many are settling on doesn't look good. The library due date card on Ocean's site, which originally got fans giddy for July 2016, suggests the next plausible date is Nov. 13, 2016.
The Nov. 13 date isn't so easy to spot. It's stamped near the top of the card on top of an earlier release date. It's the only date on the card we haven't passed yet. 
Yet, fans should take this rumored release date with a grain of salt. According to his due date photo, he's missed at least 16 other dates, which Genius recently took time to catalog. It's hard to feel feel confident Nov. 13 will provide any sort of closure, but until some misguided "inside source" offers a new one, it's the best date we've got. 
One thing is clear: Fans are becoming less and less patient as Ocean takes his sweet time. Diehards have already started promising to hack him and "get this album" if it doesn't drop soon. It seems that may have happened, though instead of music, apparent photos and multimedia from the R&B artist's upcoming magazine project have surfaced. However, these could be red herrings, too. Only time — and possibly a few more leaks — will tell.
Read more: