This "Leak" of Frank Ocean's 'Boys Don't Cry' Magazine May Be Legit — And It Looks Amazing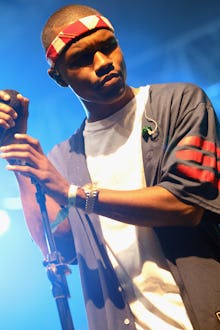 Images allegedly from Frank Ocean's highly anticipated magazine accompaniment to his album surfaced across the web over the weekend. Possibly titled Boys Don't Cry or Blonde, they're closest thing to a release we've gotten since the elusive artist opened a mysterious livestream on his website last week. It's giving many hope that Ocean might be creating something truly iconic. 
The images, distributed by Twitter account @teamfrankdaily, compile some clear Frank Ocean inspirations: muscle cars, skateboarding scenes reminiscent of his Odd Future days, pictures of known collaborators — one of Lil B and singer and actress Alycia Bellamy, of "Novacane" fame. Further confirming their legitimacy, Ryan Bassil at Noisey uncovered that the jacket Ocean is wearing in the dirt bike shots matches one Ocean is wearing in an Instagram post shared in May 2015 by Francisco Soriano, the director of Ocean's livestream. 
We may have an honest-to-God leak on our hands. It's got us thirsting for the album even harder.
Last week an inside source told the New York Times that a physical version of the magazine is expected to be distributed in Apple stores around the country. If these images and GIFs turn out to be legit, however, it may indicate the 'zine may also be coming out in an online edition, with GIFs, images and multimedia curated by Ocean.
The combined multimedia purported to be Ocean's could just as easily have been made by a fan hungry for new announcements, but they're a little too well-made to seem altogether false. Regardless, we'll continue to watch these GIFs while crying over our overplayed copies of Channel Orange. 
Boys are crying all around the world — put that in your 'zine, Frank. And there's not a chance we're waiting until Nov. 13. 
Read more: