These 10 Olympic Athlete Diets All Have One Thing in Common: Peanut Butter. Here's Why.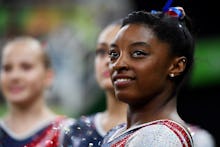 There's reason to believe that the road to the 2016 Olympics in Rio de Janeiro is paved with peanut butter. Why? Lots of U.S. Olympic athletes say in interviews that they look to America's favorite nut butter when it comes to easy breakfast or snack time. 
Below, check out how 10 Olympic athletes like to enjoy their PB. Whether on the end piece of a bread loaf, on apples, in a smoothie, or mixed into cookie dough, there's no end to these athletes' creativity. 
Simone Biles
Sport: Gymnastics 
Queen of the gymnastics floor routine, Biles is a petite powerhouse who gets her mojo from PB. In interview with Women's Health, she said she snacks on peanut butter and banana before her workouts, because "bananas have potassium, which helps with muscle cramps." She's so serious about PB, she even tweeted about it back in 2014, saying, "if you're allergic to peanut butter I feel sad for you." Preach, girl. 
Ryan Lochte
Sport: Swimming
So maybe Lochte likes peanut butter in energy bar form. So what? The decorated swimmer consumes seven to 8,000 calories a day and he chooses to peanut butter bars into the temple that is his body, Lochte told Bon Appetit. He said has a full meal before races but always keeps a KIND peanut butter bar in his bag in case hunger strikes.
_____________________________________________
Read more: 
Aly Raisman
Sport: Gymanstics
Raisman is a two-time Olympic team captain for the U.S. women's gymnastics team, and she gets down with PB on the reg. Give her the end pieces on a loaf of whole wheat bread — she likes the texture, InStyle reported. 
Seth Weil
Sport: Rowing
Peanut butter burrito, anyone? This rower likes to roll up a flour tortilla with PB&J at 6 a.m. before he trains, Time reported. That's just breakfast number one, though. Breakfast number two includes "a bacon, egg and cheese sandwich with avocado on an everything bagel and a side of fruit salad," he told Time.  
Jared Ward
Sport: Marathon
Ward likes to consume roughly 400 calories around three to four hours before a morning race, Men's Journal reported, because 26.2 miles is no walk in the park. A bagel smeared with peanut butter is his go-to for easy, delicious calories. 
Abby Johnson
Sport: Diving
This 26-year-old juggles medical school and Olympic training, so she's all about easy snacks, she told People. Breakfast consists of avocado toast (yum) and post-practice snack is an apple with crunchy peanut butter. 
Nicole Barnhart
Sport: Soccer
Barnhart is a two-time Olympian and full-time peanut butter lover. The women's soccer goalie powers up in the morning with a peanut butter-based smoothie, according to Epicurious. The recipe for success? Barnhart throws pomegranate juice, coconut milk, frozen berries, bananas, peanut butter, flax seed and sometimes spinach into a blender. 
Gwen Jorgensen
Sport: Triathlon
Jorgensen needs to bring her all in the pool, on a bike and on the road for triathlon, but her sammie only has two simple ingredients: peanut butter and honey. According to Joy Bauer, an expert nutritionist on the Today show, the U.S. triathlete likes PB sammies for lunch and also opts for a peanut butter-based recovery protein shake after training sessions. 
Shalane Flanagan
Sport: Marathon
Flanagan's so passionate about food that she's got a cookbook due out September, ESPNw reported. And her favorite dessert recipe features peanut butter. This Olympic marathoner picked up a recipe for teff (a type of grain) and peanut butter cookies when she trained in Ethiopia. 
Elena Delle Donne
Sport: Basketball
Donne is typically a forward on the Chicago Sky, but make no mistake, she's not wolfing down deep dish pizza in preparation for her Olympics games. The basketball player tries her best to eat gluten-free to manage her Lyme disease, Donne told the Kitchn. For snack time, she likes apples and peanut butter. Amen, sister.