They Were Rescued From Boko Haram, But Their Troubles Are Far From Over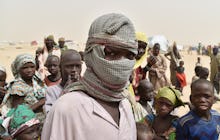 On Sunday, Boko Haram released a video picturing some of the Chibok girls, more than 270 of which were famously abducted in 2014. The terrorist network systematically kidnaps girls and women. Some are forced into marriage, some are killed, some are forced to be suicide bombers — but an ostensibly lucky few escape.
One and a half years after Fara escaped from Boko Haram and returned home, she is fleeing again — this time from her own village. She fears for her life. She is leaving her house together with her mother and her young son. They are going to Gombe, a city in northeastern Nigeria. Her father was killed by the same terrorist network that abducted her: But this time the threat came from within her own community.
Fara, whose name was changed to protect her identity, was kidnapped together with her sisters when Boko Haram fighters raided their village in 2014, the same year the group kidnapped the Chibok girls. Fara was 15 years old at the time. 
They were brought to a house in a nearby city then controlled by Boko Haram, a place where the fighters collected women before they were selected and married. Fara was forced to become the wife of a fighter named Habu. She stayed with him for seven months.
Fara is sitting in a sunny hotel room in the city of Yola. The girl with the kajal-edged eyes and bright green dress has travelled several hours in order to tell her story. Her baby is sleeping in her lap. 
When the Nigerian military regained territory and attacked the city, Fara took her chance and ran away. She walked back to her home village and thought her life would change for the better. Then she realized she was pregnant with Habu's baby.
"You should abort this child," people in her village had told her, she says. "Or [do] not breastfeed it, so it will die," others insisted. 
She refused. "We will kill mother and child," they threatened, assuming that she had married a Boko Haram fighter voluntarily.
When Fara first found out she was pregnant, she feared that "this child would behave like Boko Haram," she said. "But I couldn't kill a living being." 
After she gave birth, she hid at home. She was afraid of the so-called "vigilante," a citizen militia, which threatened her. While the mayor of her village declared they should leave the girls in peace, Fara believes he might not have the power to protect them. "When the soldiers will retract from the area, then they [the vigilantes] will come for us," she said.  
A military coalition made up of Cameroon, Niger, Chad and Benin has reported significant success in their fight against Boko Haram, which is also known as the Islamic State West Africa Province.
The Nigerian army — led by former-general Muhammadu Buhari — has recaptured territory. Officials claim that an important leader of the terrorists has been taken into custody and hundreds of captives have been released. On Sunday the terror group released a video allegedly showing some of the abducted Chibok girls, offering to release them in exchange for imprisoned fighters. 
But escaping Boko Haram doesn't necessarily mean that the hostages' distress is over. Coming back to their home villages or to overcrowded refugee camps, these women and children often face stigmatization, rejection and violence. At least eight girls have been murdered by their own neighbors or relatives, according to security sources. The number of babies killed is unknown.
Recently, the environment has worsened, as a severe wave of famine is hitting the impoverished northern regions of Nigeria. As social and political security is still unstable, many farmers fled to larger cities. Subsequently, no one was there to grow crops. 
Additionally, Boko Haram routinely burns down homes and wells, leaving few water sources. Hundreds of internally displaced persons have died from starvation. In some camps 19% of children are gravely malnourished, according to Doctors Without Borders. The catastrophic humanitarian conditions are raising tensions, further deteriorating the situation for those who returned from captivity.
Stigmatization of and skepticism toward the returning women and their children is not an unforeseen byproduct of terrorism. They are part of a new, perfidious strategy applied by Boko Haram to destroy the tissue of society. 
No other terrorist organization — not al-Qaida, nor ISIS — has murdered as many people since 2009 as Boko Haram has. The total number is as high as 27,000. But as the deadliest terror group is losing ground militarily, they've found other ways to destroy communities: They use their victims as suicide bombers; abducted girls are trained on how to detonate a suicide vest; they are instructed to detonate the bombs strapped to their bodies in the middle of a crowd. 
Dozens of these attacks have been executed in busy market places, in villages and even in refugee camps. Most of these women and children do not have a choice — if they don't act as required, they will be killed anyway. Some of them hope to escape on the way to their targeted destination, but are sometimes shot by the Nigerian military instead.
Boko Haram, a religiously-fueled death cult which endorses absolute nihilism and a profound disregard for human life, thus creates distrust towards the most vulnerable — the escaped or saved victims. 
A supposedly happy return often transforms into disaster. Experts say that it's too late to defeat Boko Haram militarily. The organization has established a network which enables it to constantly recruit new fighters. Poverty and a lack of education in the neglected North of the country are the ground on which radicalization grows. 
Fara has finally left her village and started a new life in the city of Gombe. Together with her mother she is growing crops and plans to sell them in the market. Fara was lucky — she has even found a new boyfriend, a shop owner and traditional Nigerian hunter. The couple plans to marry soon and her boyfriend accepts her son.
Fara has no doubts about her child anymore: "He is a good boy," she says with a smile.