Internet Unites to Heckle Bored Olympic Lifeguard, but Bored Lifeguard Has Last Laugh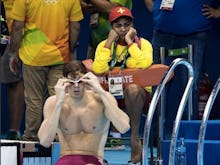 A lifeguard watching the pool at the 2016 Rio Olympics has recently been immortalized as a meme because, crying-from-laughter emoji, in what world does Katie Ledecky need saving by some random (albeit trained) human with a floatie? Probably not in this one, and so, cue thousands of people making the same joke in unison on social media:
"If you ever feel useless just remember that someone is a lifeguard at the olympics swimming event."
Also, the "bored at work #Mondays" theme was a popular one. Dad humor!
But accidents happen — even to olympians, as evidenced by the severe crash suffered by Annemiek van Vleuten during Sunday's women's road race, which the Dutch cyclist was poised to win. Safety first, at the Olympics as in other arenas of life. 
According to the New York Times, which recently did a deep dive into the lifeguard issue, there are 75 Olympic lifeguards on deck in Rio, ready in the unlikely event that a diver lands on their neck or one water polo player accidentally concusses another with an aggressively thrown bow. 
"I'm dreaming of that possibility," 39-year-old Olympic lifeguard Anderson Fertes said of saving resident Olympics DILF Michael Phelps, in an interview with the Times. "It's a one-in-a-million type of event, but we're prepared," he added.
The international federation of swimming (FINA) does not mandate that lifeguards oversee the Olympics, but Rio de Janeiro does: according to the Times, pools that are bigger than six by six meters, which an Olympic pool is, must be policed by lifeguards, per state law. 
And even if their presence doesn't seem strictly necessary, the Olympic lifeguards are sitting pretty. They're being paid about $340, according to the Independent, to sit front-and-center for one of the best loved sports at the summer Olympics. Joke's on you, internet. 
Read more: