How Olympic Gold Medalist Gabby Douglas Paved the Way for Other Young Gymnasts of Color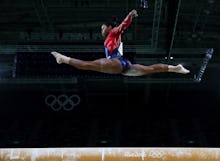 Despite not making the all-around gymnastics final for this year's Olympics, Gabby Douglas remains a vital part of U.S women's gymnastic history. As the first black gymnast in Olympic history to win the title of Individual All-Around Champion, at the  2012 London Summer Olympics, Douglas has inspired many girls of color to participate in what is still a predominantly white sport, including the world's best gymnast and current Olympic individual leader Simone Biles.   
Following her Sunday performance, viewers were quick to point out both Douglas' reputation as a role model for young women, especially young women of color, as well as her "incredible" talent: 
Others spoke in Douglas' defense against critics who talked about her hair: 
One young, black gymnast inspired by Douglas' triumphant display in London is 11-year-old Bronx, New York, native N'dey Lowe. Lowe, who takes classes at the Wendy Hillard Gymnastics Foundation in Harlem, told Motto how she found a new hero in 2012 — "I wanted to be like Gabby Douglas," the pre-teen said. "She was so confident, like when she won the Olympics. I'm excited to learn how to do more advanced stuff, like backhand stuff on the beams." The Hillard Foundation saw a major spike in enrollment of young black girls following Douglas' London gold medal achievements.
Douglas' victory also resonated well with Biles, who is already considered by many to be the greatest talent in the sport's history. Nineteen-year-old Biles became the first female gymnast ever to win three straight world all-around championships after winning gold in Glasgow last year, and the first world all-around black champion when she finished first at Antwerp in 2013.  
Unable to compete four years ago due to being too young at age 15, Biles expressed her joy to the Root earlier this year about seeing her compatriot win big in England. "It was just amazing sitting there and watching Gabby and the Fierce Five win it," Biles said, before adding that her and Douglas are "like sisters."     
Biles has now joined Douglas in recognizing their status as role models for young girls of color. "I think it's amazing because a lot of little girls don't think they can do it, but if they see me and Gabby, it gives them that little bit of hope that I think we had when we were younger," Biles said.
That's not to say the fight for equality in the sport is over. Both Douglas and Biles have dealt with their own bouts of racism in gymnastics, with Douglas indicating to Oprah after her London triumphs that teammates at her local gym in Virginia Beach, Virginia, would ask if she was their slave. 
Biles meanwhile had to hear Italian competitor Carlotta Ferlito's racist comments at 2013 Antwerp World Championships. Angry about finishing behind Biles in the balanced beam, Ferlito said to teammate Vanessa Ferrari, "Next time we should also paint our skin black so that we could win, too."    
Both have brushed off the racist haters to continue being prominent figures. And Douglas is witnessing a trend that she has facilitated ushering in. "It's a predominantly white sport, and now that I see more African-Americans getting into the sport, I love it," she told the Root. 
Read more: