Delta Work From 'RuPaul's Drag Race' Takes Flawless Selfie With Adele Onstage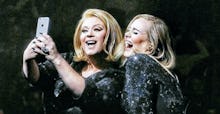 It isn't every day one gets to behold the iconic Adele in the flesh. But Saturday night at the Staples Center in Los Angeles, fans received a double dose of the singer, along with a little kiki. Delta Work, a fan favorite from RuPaul's Drag Race and queen of Adele drag impersonators, shared the stage with her fave. The two cozied up to each other and snapped selfies, basically becoming BFFs.
Adele is apparently a big fan of drag and impersonators, and this isn't even the first time she's invited a drag queen onstage during her latest world tour. In July, she brought onstage Seattle's famed drag queen Kristie Champagne. Adele also has done some investigative reporting into the lives of her impersonators, disguising herself as one in November and attending an audition with several Adele lookalikes. 
It was Delta Work's turn Saturday night.
"Hey Adele: Thank you. I am over the moon," she tweeted Sunday, sharing a photo of her and Adele laughing in the midst of a selfie. "Your show was so elegant and special. Thank you for your kindness." 
A video of the encounter shows Adele gushing over how similar they looked — "even your jewels are like mine!" They discussed the drag star's show in West Hollywood, in which she dresses as Adele. "Oh my god, amazing," Adele said at the end of their meeting. 
Delta Work's once-in-a-lifetime opportunity to meet Adele has been a longtime coming. Fellow RuPaul's Drag Race contestant and pal of Delta's, Detox, had been long petitioning to get the two to meet during Saturday's show, circulating calls pinned with the hashtags #Adelta and #MakeAdeltaHappen. 
Adele's world tour: Where true friends are made and dreams come true. 
Read more