11 Healthy Cocktail Recipes You Can Whip Up at Home to Impress Any Guest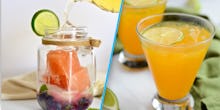 Sometimes, after a long, stressful day, there's nothing quite as satisfying as sipping on a cocktail to wind down. 
Sitting back with an ice-cold something doesn't necessarily have to come with the excess calories that many people might like to avoid. With some cocktail ingredients from your very own kitchen, it's possible to whip up something wonderfully delicious, while still being mindful of the drink's nutrition facts. 
Without further ado, here are 11 healthy cocktails that you can concoct at home:
1. Blueberry Mint Kombucha Mojitos 
The only thing better than a cocktail that won't completely immobilize you the next day is...well, nothing. Not only does Real Food with Dana's blueberry mojito kombucha cocktail consist of lighter vodka and zero sugar, it's also made with watermelon ice cubes which automatically make this the classiest drink you'll ever have the pleasure of consuming. Get the recipe here.
2. Antioxidant Sangria 
Those giant glasses of wine that you live off of every day (we don't judge) actually offer some pretty serious health benefits. The red wine used in this sangria recipe from Lively Table consists of acids and flavonoids that act as antioxidants, fighting free radicals while you kick back. Get the recipe here.
3. Gluten-Free Cranberry Bourbon Sour
Don't let your gluten intolerance stop you from enjoying a cocktail as simple as this cranberry bourbon sour from The Clean Dish. This drink consists of four very simple ingredients: cranberry juice (which has been proven to have a positive effect on the urinary tract system), maple syrup, bourbon, and fresh-squeezed lemon juice. Get the recipe here.
4. Gazpacho Bloody Mary
Contrary to what you may believe about drinking a cocktail full of tomato juice, a bloody mary can actually add up to around 400 calories and a ton of sodium. But picking up some quality ingredients such as fresh tomatoes, cucumbers, and bell peppers can add a bit of nutritional value on top of it being a clever way to sneak some more veggies into your diet. Get the recipe from Pickled Plum here.
_____________________________________________
Read more: 
5. Hushed Caramel Apple 
This childhood favorite just got a little boozy. Caramel apples aren't (and never were) the healthiest snack, but with this cocktail created by the Drink Blog, you get the taste of a caramel apple without all of the extra sugar from the caramel itself. Get the recipe here.
6. Cucumber Coolers 
Cucumbers help boost your vitamin K intake, meaning that, if you eat enough of it, you'll have a nice and healthy skeleton. But cucumbers also have a cooling effect, meaning that this cocktail from Minimalist Baker will give you strong bones, a little buzz and all the right chills. Get the recipe here. 
7. Hibiscus Vodka Cocktail with Mint and Jalapeño
This fancy drink, made by Nerds with Knives, is made primarily of hibiscus syrup, which is just flowers soaked in hot water and sugar. The flower happens to have a tart, sour flavor and it's loaded with vitamin C, minerals and antioxidants. Get the recipe here.
8. Turmeric Gin and Ginger Cocktail 
Turmeric is a spice that has a few anti-inflammatory properties and promotes good heart health. When creating this cocktail, Robin, of Cali Cooking Girl, managed to balance out the extreme flavor of the spice with a little ginger and a little more alcohol. Get the recipe here.
9. V-9 Cocktail
This concoction features a healthy splash of tequila and a "super juice" made of kale, cilantro, pineapple and ginger root. Get the recipe from Cocktail Enthusiast here.
10. Blueberry Lemon Breeze 
This might just be one of the easiest cocktails you'll ever put together. Agave nectar is used to add a bit of natural sweetness to balance out the sour tasting blueberries and lemons. Get the recipe from Fitness Magazine here.
11. Raspberry Chamomile Cream Soda
So there's a lot going on here. But the great thing about this drink is that you can substitute the frozen raspberries for fresh ones and you can also swap out the maple syrup for any natural sweetener you prefer. Get the recipe from With Love and Food here.
Read more: