Kourtney Kardashian Wants to Be Free From Her Reality TV Nightmare (Sort of)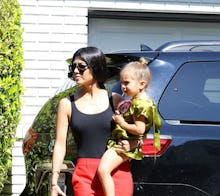 In a shocking confession, Kourtney Kardashian told the Daily Mail's You magazine that she wouldn't be totally devastated if Keeping Up With the Kardashians, the show that has been documenting her daily life for years, were to cease its daily probing of her personal life and go off the air.
"I don't want the show to end, but I sometimes think I would be so happy if it did and I could just move away from it all," Kardashian told You. "By the end of every season I've had enough, but then once we have had a break I'm ready for more."
While she's not exactly announcing her retirement from the spotlight, it's pretty surprising to hear the eldest Kardashian daughter admit that she might, possibly, be ready to move on from the show that's kept her on the front pages of tabloids since the show first premiered in 2007. 
It would make sense that the mother of three might want a break from the extreme level of exposure that she lives out on KUWTK: Her relationships with her sisters, her split from ex Scott Disick and her young children are all constantly under the microscope. But just because she sometimes gets tired of the limelight doesn't mean the show is coming to an end anytime soon — and it doesn't seem like the heavy burden of fame weighs on Kourtney Kardashian all the time.
"I still feel surprised when I'm recognized in the street," she told You. "I forget that so many people know who I am and have seen me give birth."
Read more: