This NSFW Vagina Coloring Book Is Trying to Empower Women to Love Their Lady Parts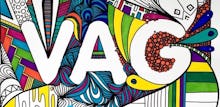 Afternoon crafts are great, but there's nothing like the childlike pleasure of coloring — especially if the images being filled in with crayon and marker spell out the word "twat."  
In this spirit, a 28-year-old feminist artist in the United Kingdom is crowdfunding a vagina coloring book, which features intricate designs for NSFW slurs typically used to describe the female anatomy. 
Artist Beki Reilly was inspired to create her new feminist coloring book, Colour Up Next Tuesday aka "C.U.N.T.", after a friend recommended that she print an adult coloring book. The coloring book features fill-in-the-blank designs for the terms themselves, such as "cunt," "twat," "flaps," "pussy," "vag," "axe wound," "gash" and "snatch," just to name a few. 
Reilly's goal was to reclaim negative phrases associated with vaginas by making the words beautiful.
"By transforming the word with color, you can completely change how you feel about it," Reilly told Mic in a direct Twitter message. The book's message has clearly resonated with feminists: it's already raised more than half of its £1,000 goal (around $1,303.45) on Kickstarter. 
Reilly's project is part of a long tradition of women reclaiming negative words and genital images through art. For instance, in 1975 artist Tee Corinne published the original Cunt Coloring Book for sex education classes. The coloring book focused more on anatomy than language by featuring images of a diverse selection of vulvas, encouraging the playful exploration of the female body.  
While words like 'cunt' and 'pussy' might not seem like such a big deal, research shows that such language has the power to subconsciously influence behavior. A scientific study of reactions to the word "moist," for instance, showed that "disgust responses may often go unnoticed when influencing a person's judgment or behavior." 
Therefore, slang terms for vaginas like "pussy" and "gash," which are associated with weakness and the grotesque, can negatively contribute to the way people think about women's bodies. 
"I think words like cunt, gash and twat are intended to humiliate women for having a vagina, which is just ridiculous!" Reilly said. "As most coloring book users are female, it seemed like the perfect opportunity for women to reclaim those words with something as simple as pencil crayons... it's important to take back words that are used to humiliate and make women feel uncomfortable with their body." 
Read more: