8 Empowering Things Fashion Designers Have Said About Body Positivity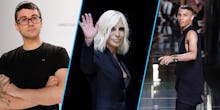 In his 2012 book The World According to Karl, Karl Lagerfeld, arguably the most recognizable man in fashion and the head designer for Chanel, wrote, "No one wants to see curvy women on the catwalk." He also wrote, "It's the fat women sitting in front of televisions with their pack of crisps who say slim models are hideous." In an interview that same year, he called singer Adele "a little too fat." 
Lagerfeld is far from the only man in fashion who's tried to shame any woman who isn't stick-thin. In 2015, a managing director of Herve Leger, the brand that's best known for its curve-hugging bandage dresses, said that the dresses weren't for "voluptuous" women, or women with "very prominent hips and a very flat chest." 
In 2013 the creator of Lululemon, Chip Wilson, said that his company's yoga pants also weren't for curvaceous women. "Quite frankly, some women's bodies just don't actually work" in his clothes, Wilson told Bloomberg. "It's really about the rubbing through the thighs, how much pressure is there over a period of time, how much they use it." 
But believe it or not, some people in the fashion industry actually do understand that not every woman in the world is 5'11" and a size 2, and some actually even want more diversity, not less. What's more, some people in fashion aren't garbage monsters like those described above. 
To highlight this, here are eight designers speaking their minds on what they'd like to see down that runway, how they think clothes should — or shouldn't — affect women and how they want their clothes to make women feel. 
Donatella Versace, chief designer at Versace 
"Plus-sized women shouldn't think of themselves as a size," Versace told Time, according to the F-Word. "They should think of themselves as women with rich goals in life. Size doesn't mean, really, anything. You can carry your size with pride and dress in a way that you like"
Christian Siriano, American fashion designer 
"My whole thing is that I want my brand to be accessible to every woman," Siriano, who's notably designed dresses for Leslie Jones, Christina Hendricks and Danielle Brooks, told Mic. "I think that it's way more exciting walking down the street and seeing 10 women wearing Christian Siriano. At the end of the day, I'm here to make beautiful things for everyone." 
Becca McCharen, the founder and designer of Chromat 
"As fashion designers, we have the power to highlight and celebrate beauty in all different forms," McCharen, who's hosted some of fashion week's most diverse fashion shows, told Refinery29. "For me personally, Chromat women are doing amazing things in all different fields and come from all different places. We wanted to take this opportunity to celebrate those women and have these incredible women reflected in our runway show."
Diane von Furstenberg, American fashion designer 
"As we approach New York Fashion Week, let's remember that beauty is health and health is beauty," von Furstenberg wrote in an open letter to industry peers, urging for more diversity at fashion week. "It is also important to remember that beauty is diversity and as an industry, we stand by these two principles. It is essential to remind ourselves of this as we spread the message to the world."
Olivier Rousteing, designer and creative director at Balmain
"We're going back to real bodies and real femininity, and that's what I love," Rousteing, who's dressed Kim Kardashian West and Kendall Jenner, told the BBC. "All my girls are different ages, different shapes ... it just depends. I love showing a reality on my catwalk and I think we are going back to that." 
Donna Karan, designer and creator of Donna Karan New York 
"Age and size are only numbers," Karan told the Wall Street Journal. "It's the attitude you bring to clothes that make the difference."
Zac Posen, American fashion designer
"I've always dressed women of all body types, of all races and all ages — and that is part of my success," Posen, who's designed red carpet gowns for Lena Dunham and Dita von Teese, told People. "I don't think many brands do this but it is essential for me."
Stella McCartney, English fashion designer 
"I can honestly say this industry hasn't made me neurotic about my looks, except maybe my weight," McCartney told New York Magazine. "I hope my clothes kind of reflect that. They're meant to make you feel good, not give you more hang-ups."