Ivanka Trump's Designers Don't Get Paid Parental Leave — So Much for That RNC Speech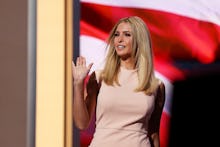 During the 2016 Republican National Convention in July, businesswoman and aspiring first daughter Ivanka Trump took the stage in Cleveland to espouse her father's commitment to supporting working mothers, and then affirming her own belief in the importance of "policies that allow women with children to thrive." 
As it turns out, not only do those claims not add up when it comes to Donald Trump's own record with female employees, it would seem Ivanka herself lacks a leg to stand on.
A recent investigation by the Washington Post alleged that employees at the company responsible for designing Ivanka Trump's own fashion line do not get even "a single day of paid maternity leave." 
"At my father's company, there are more female than male executives. Women are paid equally for the work that we do and when a woman becomes a mother, she is supported, not shut out," Ivanka Trump told the crowd at the RNC before starting in on herself. 
"As a mother myself, of three young children, I know how hard it is to work while raising a family. And I also know that I'm far more fortunate than most. American families need relief. Policies that allow women with children to thrive should not be novelties, they should be the norm."
But, as the Post uncovered, the G-III Apparel Group, a brand licensing partner not run by Trump herself, but is contracted by the Ivanka Trump Brand to design and distribute her apparel line, offers no paid maternity leave for new parents, according to "past and current employees" who spoke to the Post.
It's perhaps not surprising that the G-III Apparel Group, which is based in New York, doesn't offer paid maternity leave — the United States does not require paid parental leave by law, and, despite a small increase, from 2011 to 2015, in the number of U.S. workers taking paid parental leave, many families have no options when it comes to caring for new additions.
Considering Ivanka Trump's stated belief that new mothers should be "supported" by their employers, the revelation that that the very company designing the clothes that bear her name does not seem to adhere to those ethics. 
However, there is a possibility that Trump is not aware of the G-III's lack of paid leave. And the Ivanka Trump Brand, Trump's personal, 12-employee company, allows for eight weeks of paid maternity leave, according to the Post.
So it's possible that now that the lack of paid parental leave at the Trump-adjacent distributor has been brought to her attention, Trump will work to rectify it. It remains to be seen how far Trump's stated commitment to working mothers will carry.
Read more: