Leslie Jones' Kid Fan Has Hard Truths for Haters: "You're a Ghostbuster and They're Not"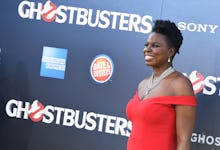 Last month, Leslie Jones endured the worse of what Twitter has to offer: a cohort of trolls who made it their mission to bombard the Ghostbusters actress with a racist, sexist tweet assault. 
Jones called out the abuse herself, calling the tweets "fucking disgusting" and encouraging people to go through her feed and see for themselves how truly terrible people can be. "You won't believe the evil," she tweeted. "It's fucking scary." 
Celebrities and fans reached out to Jones offering their love and support online, but weeks after the initial outpouring, Jones received one more note she had to share on Twitter — a letter from "8-9"-year-old Julian who offered some wise words of encouragement to the actress.
"Forget what they say on the internet," he wrote, going on to dish out some harsh truth: "You're a Ghostbuster and they're not." 
Jones spoke out about the harassment on Late Night with Seth Meyers, echoing the ongoing call that Twitter take concrete steps toward eradicating abuse on the platform. Things got so out of hand, Twitter CEO Jack Dorsey was forced to intervene, reaching out to Jones personally and handing notorious men's rights troll and Breitbart columnist Milo Yiannopoulos a lifetime ban. 
But as Twitter works on figuring out how to protect its users, Julian's words, which Jones said she would keep on her board at work, should provide at least a flicker of comfort for Jones: "You are a wonderful person and a great actor. Keep being yourself!"
Read more: