Kanye West Has Officially Surpassed Michael Jackson in Total Billboard Top 40 Hits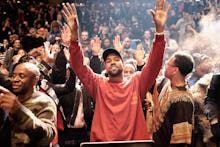 Kanye West has been rapping about his admiration for Michael Jackson ever since College Dropout dropped back in 2004. This week, he officially took the King of Pop's throne. Thanks to his feature in Schoolboy Q's "That Part," West officially has more hits in the Billboard Top 40 than Jackson himself. 
Yeezy joins the likes of Elvis Presley, Elton John and Stevie Wonder in the top 10 ranking of musicians with the most total Top 40 hits. The list also features a number of music's current biggest names, including Drake, Lil Wayne and Chris Brown, who have all relied heavily on features to catapult his names to the top of the Billboard charts.
Here's exclusive footage of Yeezus celebrating the news:
West has said in interviews that Jackson is one of his most critical inspirations behind his work. "I would not be Kanye West if it wasn't for Michael Jackson," West told Zane Lowe during his now-infamous BBC Radio interview. "He had to fight to get his video played because he was black... For me in my life of creativity it's been challenging, but I was able to ascend to massive level and heights... There would be no Kanye West if it wasn't for Michael Jackson."
Those words accompany a career full of nods to the great, including his epic boast in "I Am a God" in which he claimed he was "The only rapper compared to Michael." He's now one of only three rappers with as many hits to his name.
Here's the top 10 artist with the most Billboard Top 40 hits, via XXL Mag:
80 — Elvis Presley
Read more