21 Visionary Male R&B Singers Who Aren't Named Frank Ocean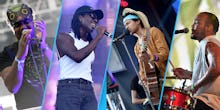 Culture
By
Tom Barnes & Chris Riotta
Until Frank Ocean releases Boys Don't Cry, he probably shouldn't go out in public. 
The young R&B visionary has been stringing along fans thirsting to hear his sophomore full-length for some time now. He teased its first release date with the now-infamous "#July2015" hashtag over a year ago. His ghosting has left some fans absolutely foaming at the mouth, threatening to "hack" him, "fight" him or stop listening all together.
The way fans have been wailing, you'd think Ocean is the only singer capable of delivering a visionary R&B album. He's not. The genre hasn't had this level of diversity in voices and styles in years. Ocean definitely helped open these floodgates, allowing quirky and creative versions of the genre to sweep artists like Trey Songz and Chris Brown off their pedestals. 
But that was then. This is now. It's time some fans shut off Ocean's infamous livestream and plug into something real.
1. Maxwell
R&B veteran Maxwell has been grinding in the R&B and soul circuit for over 20 years at this point, and he's only getting better with experience. He got his start in 1996, recording an album of funk-bless romances playfully titled Maxwell's Urban Hang Out Suite. His latest, July's BlackSUMMERS'night, the second in a trilogy, is grittier and more conscious of its place in a world that seems desperate need of healing.
"My music is an expression of my concern for others and I participate as much as I can in helping people in need," Maxwell told Mic in a June interview. "Though my music is not political, it is recorded and performed in solidarity with others."
2. Jeremih
Jeremih's music has evolved tremendously since he debuted with the smash single "Birthday Sex" back in 2009. He's made a career selling seduction, however, in more sophisticated forms every release. His recent Late Nights: The Album and its spiritual sequel Late Nights: Europe, reportedly recorded in two weeks, are two of the finest R&B albums of the year. They offer inspired rhythms, impressive melodies and a mature sexuality than most radio fare.
3. DVSN
One of the newest and most highly regarded additions to Drake's OVO family, DVSN (pronounced "division") has been taking the label's characteristic blurred, moody R&B and making it their own. The group's vocalist Daniel Daley tends to bring a little more falsetto and showmanship to his verses than his label's chart-topping boss. Producer Nineteen85's beats tend to be sparser and more unpredictable. It makes for a more dense, inscrutable product that feels richer and fuller with each listen.
4. Anderson .Paak
Drummer, rapper, singer and altogether mindblowing showman, Anderson .Paak has a live show few others can match. He moves seamlessly each of his talents during his sets, sweating, shrieking with a swagger reminiscent of R&B's one and only Prince. His January-released Malibu LP captures the full range and flexibility of .Paak's hip-hop-influenced soul, and he's slayed every one of collaboration appearances, ranging from Schoolboy Q to Kaytranada to Flume to Tokimonsta.
5. Blood Orange
The '80s are alive in Dev Hynes, also known as Blood Orange. The R&B aurteur has been a go-to writer for many of pop's offbeat stars, including Solange Knowles and Carly Rae Jepsen. His productions tend to be endearing, leg-warmer-friendly jams, but his latest Freetown Sound proved he's got the range. The album's lyrics made strident calls for LGBT acceptance and peace. 
"My album is for everyone told they're not black enough, too black, too queer, not queer the right way, the under appreciated, it's a clapback," Hynes artist wrote on Instagram. It's a queer gospel for the ages.
6. Saba
Saba hails from Chicago's westside, getting his start by working with other Chi-town artists, like Chance the Rapper and Noname. His lyrics moves smoothly back from hip-hop inflected R&B into more straightforward boom-bap effortlessly. His SoundCloud offers a steady stream of honest raps, tracks with other indie talents like Tink, Benjamin Earl Turner and LEGIT.
7. Gallant
Gallant made waves when he released his debut Ology in April of this year. It followed a series of successful tracks, an EP and his 2015 critical single "Open Up" went viral on streaming services like Spotify. The rising artist's vocals are on par with Ocean's and his songs are just as emotionally resonant.
8. Bilal
BET was throwing a lot of shade ahead of its 2016 Award show, claiming their Prince tribute was going to blow away any other award show's attempt. Without Bilal, they might not have been able to pull that off. The former Soulquarian soul singer channeled all of Prince's unbridled sexuality into his cover of Prince's "The Beautiful Ones." He's captured much of that same soul and fury in his own releases as well, his most recent being the surreal and provocative A Love Surreal and politically incisive In Another Life.
9. Khalid
Khalid may only be 18-years-old, but his music conveys an understanding of modern R&B only experienced artists are usually able to attain. The military brat whose lived and traveled across the United States, Khalid has surrounded himself with some production luminaries, such as SykSense (Drake, Bryson Tiller) and Hiko Momoji, while continuing to exploring his talents. 
10. Francis and the Lights
Francis and the Lights deftly skirt the border between indie rock and R&B. They formed while attending school at Wesleyan University, with the bands frontman Francis Farewell Starlite leading the band from a series of EPs to a breakout studio album, It'll Get Better. The band is based in New York City, and was given a nod this year by Kanye West, who tweeted their song "Friends," featuring Bon Iver and himself, was his "favorite song this year."
11. PartyNextDoor
Jahron Anthony Brathwaite also known as PartyNextDoor is a Canadian 23-year-old producer and widely known as Drake's prodigy. The artist has long worked side by side with the chart-topping rapper, studying his artistry and contributing beats, hooks, samples to his projects, including Drake's long-running no. 1 single with Rihanna "Work." A good amount of fans have argued it's a far better version.
12. BJ the Chicago Kid
Bryan J. Sledge, better known by his stage name BJ the Chicago Kid, has been a low key presence in the alternative hip-hop scene for over a decade, producing hits with artists like Chance the Rapper, Kendrick Lamar, Shirley Caesar and Kehlani. His sound is unique — a mix of blues, hip-hop, gospel and R&B. His debut album In My Mind features an eclectic variety of tracks which NPR hailed as having "the ingredients that make make R&B great: emotion, sex appeal, spirituality, vulnerability."
13. Bryson Tiller
While Frank Ocean hammers and saws away in his workshop, Bryson Tiller has been catapulting his career to new heights with the support of artists like Drake and Timbaland. The hip-hop performer gained notoriety for his stream of SoundCloud tracks last year before signing to RCA to release his debut Trap Soul record in October 2015. 
14. Miguel
Miguel has been at the forefront of modern R&B since 2004, steadily releasing a stream of chart-topping R&B albums and contemporary hits. He's also an outspoken supporter of the Black Lives Matter movement, releasing the surprise song "How Many" via SoundCloud this year supporting of ending police brutality and injustice. The Grammy-winning artist's career includes some of alternative hip-hop and modern R&B's most notable releases, including "Adorn" "Lotus Flower Bomb" and "All I Want Is You."
15. Sampha
Sampha is another who gained his start by working closely with hitmakers like Drake and SBTRKT. The singer flexes his range from deep notes to an ethereal falsetto in nearly every one of his tracks, while continuing to explore different piano and synth arrangements, making for a smooth, unique contemporary R&B styling. The chill vibes he delivers on tracks like "Indecision" make him the perfect singer to fall in love with while waiting for Ocean to drop.
16. Raury
Raury is an Atlanta-based artist mixing folk, soul and hip-hop in his eclectic tracks. The young musician signed with Columbia records after releasing his first mixtape at just 18-years-old. That project Indigo Child was a free mixtape for fans, and the talented entertainer continues to find interesting ways to connect with fans: from throwing a music festival Raurfest for his 18th birthday party to mixing influences from Chance the Rapper, Big K.R.I.T. and Lorde.
17. Kwes.
Get you an R&B artist who can do you both. Known for his infectious love songs, Kwes is another artist who walks the fine lines of production and recording his own music in the R&B music industry. The London-based musician mixes synths, layered vocals and warm, emotional lyrics for the perfect modern day ballads.
18. Daniel Caeser
Toronto is spawning R&B talent like a veritable Motown these days. Not all of it has ties to Drake and OVO either. Daniel Caesar, the 21-year-old singer draws from a much wide range of influences to create his music, including rock, folk, and down-tempo EDM. Songs like "Death and Taxes" bely his religious upbringing and the outstanding questions of faith his music continues to tackle.
19. Raleigh Ritchie
Raleigh Ritchie launched his R&B career about two years into his tenure on Game of Thrones, where plays the eunuch warrior Grey Worm. The music belongs to a far brighter world than that of the medieval fantasy. It's earnest, romantic, quirky and well-represented by his August-released short film "Hi Maintenance" based off his song "Cowards."
20. D'Angelo 
Between his second and third albums, the reclusive D'Angelo kept fans begging for new music for far longer than Frank Ocean has at this point. It took him 14 years to release Black Messiah following his previous Voodoo. But damn was it worth it. The album featured inspired instrumentation, dense harmonies and a mission to capture the urgency of the Black Lives Matter movement in sound. It succeeds brilliantly.
21. The-Dream
Whether or not you've ever looked up one of his albums, you've heard The-Dream. The hitmaker has been a behind-the-scenes songwriting force behind some of the biggest stars, such as Rihanna, Justin Bieber, Ciara and Mariah Carey. His solo albums are generally a little more experimental, but still drawn from his impeccable hook-writing and songwriting abilities.
Aug. 11, 2016 3:17 p.m.: This article has been updated.