Smart Sex Toys Are Great Ways for Hackers to Get in Your Pants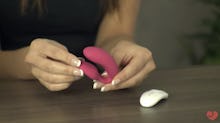 Hackers: They are in our phones, our cars, our thermostats and now in between our legs. Bow chicka hell no.
During the Def Con hacking conference last week, hacker duo Goldfisk and Follower hacked a smart sex toy — the We-Vibe 4 Plus — which allowed them to collect all sorts of masturbatory data, the Daily Dot reported. They did so by exploiting the device's processor, which doesn't have a Bluetooth certificate pin, making it susceptible to hackers. 
And oh boy did they collect some sexy details, the Register reported — like how intense you like it and the temperature of the device. They even found the vibration modes you prefer: With the We-Vibe 4 Plus, there are 10 modes, but you can also create your own custom vibe. Your personally blended mix of pulse, wave, wave, pulse, tide, bounce, cha-cha-cha could be in the hands of hackers.  
This doesn't refute the Def Con demo — while Ferrari notes that consumer devices haven't been attacked, the device is still susceptible to hackers. And it's unsurprising that a Bluetooth-enabled device is in fact vulnerable. "Hundreds of thousands of industrial and commercial control systems" (or SCADA systems) have joined the Internet of Things "without proper protections," Technology Review reported — and now we can add insecure vibrators to the mix.
Getting off while plugged in? You might want to make sure your hardware is protected. 
Read more: