Here's Why Gabby Douglas Won't Be Able to Defend Her All-Around Title at the Rio Olympics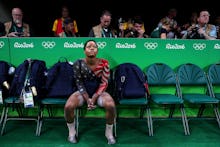 Gabby Douglas is the Olympic gymnastics reigning all-around champion, but not for long. On Sunday, two of her teammates landed higher scores in the event, qualifying for Thursday's final while disqualifying Douglas.
Why? Because of the two-per-country rule, instituted by the International Federation of Gymnastics, that allows just two gymnasts from a given country to compete in the all-around final. The rule exists to keep a country from occupying all the spots on the Olympic podium.
"I think the two-per-country rule is the dumbest thing ever," Aly Raisman, Douglas' teammate, said. "Who cares if there's five Chinese girls on the bar final up there? If they're the best five, then they should be able to compete."
It was Raisman's second-place performance in Sunday's qualifying round that edged out Douglas by a fraction of a point. Simone Biles, who has been called the best gymnast ever, placed first. Douglas placed third, but it's Biles and Raisman who will go on to the all-around final on Thursday. 
The upset is far from the first of its kind. In 2012, at the London Olympics, Douglas and Raisman outperformed Jordyn Wieber, who — at the time — was the all-around world champ. That year, Douglas took home the gold and Wieber's former title. 
Douglas, for her part, is not haboring any hard feelings. "I'm not disappointed at all," she told the Associated Press. "I have no regrets." She immediately gave Raisman a hug, and will perform in the uneven bars final later on. 
"I would have loved to go out there and defend my title, but right now I'm just rejoicing and so far this has just been an amazing experience," she told the AP. "There's nothing to be ashamed about."