Besties Martha Stewart and Snoop Dogg Will Host a Dinner Party Show Together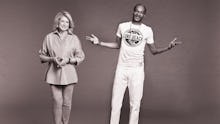 Good luck to everyone who hopes to one day make the best TV show of all time. The work is already on its way. 
Rapper and ganjapreneur Snoop Dogg is teaming up with his BFF and the supreme ruler of the lifestyle realm Martha Stewart for a new unscripted series on VH1, the Hollywood Reporter reported. The show is called Martha & Snoop's Dinner Party and will bless television screens everywhere this fall. 
As the title of the show indicates, Snoop and Stewart will throw a weekly dinner party where they invite over celebrity friends, THR noted. There is no word on who the celebrity guests will be but perhaps Jonathan Cheban, Kardashian BFF and self proclaimed Food G?d, will get an invite now that Stewart knows who the hell he is. 
Each episode will be a "half-baked evening of cocktails, cooking, conversation and fun where nothing is off limits," VH1 revealed. Does "half-baked" imply that one of the hosts will using marijuana? Or that both hosts will only be somewhat stoned? Stewart is rumored to have gotten high with Snoop in the past. Or does it simply mean a lot of Ben & Jerry's will be involved? 
_____________________________________________
Read more: 
The shade queen and the king of dropping it like it's hot aren't just entertaining guests on the series — there is a competitive element to the show, too. "Martha & Snoop's Dinner Party will redesign the traditional food competition shows in a new, different and very funny way," Stewart told VH1. "We will exemplify America's fascination with food, entertaining and celebrity," she added. It already sounds thrilling.
While Stewart is busy redesigning "traditional food competition shows," Snoop just seems pumped to spend some quality time with his friend. "My homegirl, Martha, and I have a special bond that goes back," he told VH1. "We're gonna be cooking, drinking and having a good time with our exclusive friends. Can't wait for you to see how we roll together!" Same, Snoop, same.