Tanzania Instated a Partial Ban on Lube as Part of a Countrywide Crackdown on LGBTQ People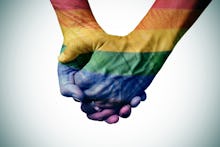 Just weeks after Tanzania started to ban importing and selling lube, in an effort to quash the gay community, the minister of justice and constitutional affairs said Monday that the country would also prevent non-governmental organizations — including charities — from being registered if they supported the LGBTQ community. 
The minister, Harrison Mwakyembe, said the crackdown was necessary to protect the "culture of Tanzanians," the Guardian reports. 
Until recently, Tanzanian culture has, for the most part, not persecuted the LGBTQ community — in fact, there is a growing tribal practice of women marrying each other in some parts of the country (though said women do not identify as lesbian). 
The Tanzanian government publicly maintains that stopping men from having sex with each other is not just for the sake of cultural preservation, but a public health issue, too. Officials argue it would help tackle the country's HIV/AIDS problem. 
"It is true that the government has banned the importation and use of the jelly to curb the spread of HIV," Health Minister Ummy Mwalimu said on July 19, according to Agence France-Presse.
The executive director and Founder of LGBT Voice Tanzania, James Wandera Ouma, has identified a shift in social and political climate as it pertains to LGBTQ rights. 
"Recently we haven't been able to organize meetings because everyone is afraid of what will happen," Ouma told the Guardian. "Like people think, 'if I go to this office, the police might come and arrest me.'"
Read more: