U.S. Takes Silver in Rio Olympics Synchronized 10m Platform Diving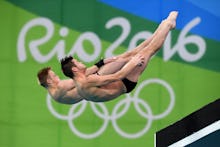 On Monday, Olympic divers Steele Johnson and David Boudia took the silver for the synchronized 10m platform diving event. 
The two qualified for the Rio Olympics in June at the Olympic Diving Trials in Indianapolis, where they bested their nearest competitor by 238.02 points. At Monday's games, Johnson and Boudia were edged out by Chinese divers Chen Aisen and Lin Yue, who landed a 496.98 after earning a 10 for execution and 10 for synchronization.
Great Britain divers Thomas Daley and Daniel Goodfellow lagged behind the two teams, bringing in a bronze with a score of 444.45.
It's Johnson's first time competing in the Olympic games, and the 20-year-old shared his excitement and anticipation on Instagram over the last couple days. 
On Saturday, he reacted like anyone else would at the opportunity to snap a selfie with legendary swimmer Michael Phelps — the most decorated Olympic athlete in history. 
And on the eve of Monday's silver-winning synchronized dive, Johnson shared a photo of he and Boudia, who attended the 2008 and 2012 Olympic games, emotionally preparing for the big day.
"It has been a long journey to get to this moment, but the work is not done yet," wrote Johnson in the photo's caption. "Tomorrow, it's go time!"
Of his teamwork with gold medalist Boudia, Johnson told NBC Olympics, "He has taught me so much and I wouldn't trade diving with him or being friends with him for anything."
Read more: