'The Swans of Fifth Avenue' Goes Behind the Scenes of a High Society of Betrayal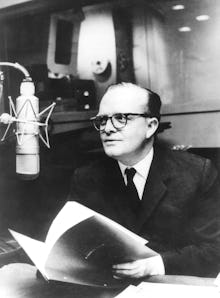 Melanie Benjamin's latest work The Swans of Fifth Avenue tells the story of Truman Capote's rise to fame and fortune from the perspective of his harem of opulent high society friends — his swans, he calls them. The book is rife with gossip, tension and betrayal, which is only visible in the back rooms of austere, museum-like settings.
The Swans of Fifth Avenue marks Benjamin's fourth historical novel, following such critically acclaimed books as 2009's Alice I Have Been and 2013's The Aviator's Wife. She enjoys pulling back the curtain and delving deeper into stories of prominent but oft forgotten women throughout history. The Swans of Fifth Avenue adds world-(in)famous author Capote to the mix, which infuses her writing with even more life.
For this book, Benjamin focused on Capote's relationship with cardinal swan Babe Paley — paragon New York City socialite and fashion icon of the 1950s and wife of legendary CBS founder Bill Paley. Throughout his relationship with Babe, we see Capote transform from an enthralling, coquettish, cherubic-looking imp to a bloated, regretful has-been who burns every last bridge. 
While Capote could have been the main focus of this novel, Benjamin is much more interested in how this enigmatic figure affected the rigidity and tradition of society around him — making waves in an era when social affairs were meant to be a smooth and flat as the satin gowns they wore to the Plaza ballroom.
Though focusing on the pampered, lavish creatures of Manhattan's upper echelon, Benjamin touches on universal emotions and insecurities: unappreciated beauty both inside and out, inadequacy because you have a different story from those around you, regretful self-absorption and being blind to reality, loneliness, fear of irrelevance. 
Money might buy the swans the poshest apartments, the latest Balenciaga or the most valuable Picasso, but behind the masks, the swans are as insecure as the masses who worship them— if not more. Fear dictates the actions of most characters, and essentially drives every underlying decision that Babe or Truman makes: except when it comes to each other. Which makes it all the more heartbreaking when Truman publicly pulls back the Paley curtain and outs her imperfection to the world.
Benjamin gives readers a foray into the feminine condition of the '50s and '60s elite, when women used their sexuality as currency and mostly (if not solely) defined themselves by the men around them. Betrayal was an expectation, but resultant emotions had no business being made known — a beautiful mask was the best, and most necessary, defense. Exploring a time when "women never let themselves be that vulnerable" because it simply wasn't an option was dispiriting — especially while witnessing women cut each other down.
The hypocrisy in treating women as the weaker sex, while forcing them to protect themselves with medieval-grade Balmain armor and project an effortless perfection left you just as tired as the swans themselves: women were to be models, not mortals. But outrage for our grandmothers is balanced with appreciation for our advances.
More Mic Book Club reads:
The swans know the danger of being close to Capote from the beginning, and how hot the flame is, but dance ever closer as their icy walls are thawed. His baits of friendship and flattery dull the high stakes threats of vulnerability and exposure. The fallout from their admissions leaves the reader of The Swans of Fifth Avenue nostalgic, jaded, and wondering along with Slim Heyward: Can you truly be honest without sacrificing your safety? And would you risk getting so close to such a bright star as Capote at the risk of getting burned?